Meghan McCain: Michelle Malkin Went On 'Absolute Manic Rampage' After I Praised Sandra Fluke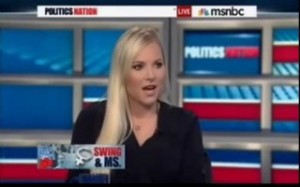 MSNBC contributor Meghan McCain appeared on Politics Nation with Al Sharpton on Monday to address a growing controversy surrounding her feud with conservative columnist Michelle Malkin who attacked McCain for sending out a tweet with a picture of reproductive rights advocate Sandra Fluke at a White House Correspondents' Dinner after party on Saturday. She said that Malkin went on a "manic rampage" after she saw McCain's praise of Fluke.

RELATED: Greta Van Susteren Fires Back At Meghan McCain Over Correspondents Dinner Tweet
The offending tweets were sent on Saturday evening at the MSNBC after party following the Correspondents' Dinner:
.@McCainBlogette thanx 4 support/advice re: public attacks!We girls have 2 have each others' backs despite polit diffs. #MSNBCafterparty

— Sandra Fluke (@SandraFluke) April 29, 2012
Malkin's twitter watchdog site Twitchy posted a rather scathing review of McCain's tweet and Fluke's response.
McCain later addressed the controversy, saying that she was surprised her praise of Fluke had ignited a "right-wing meltdown" quoting the left-leaning blog Politicususa.com.
@SandraFluke Our twitpic has caused a "right wing meltdown". Who knew women supporting each other was so controversial? politicususa.com/the-girl-power…

— Meghan McCain (@McCainBlogette) April 30, 2012
On Sharpton's program on MSNBC, McCain recounted the meeting and said that she was "big fan of [Fluke's], simply from woman to woman."
"We both have been through experiences where we have been lighting rods in the media," said McCain. "I've been called a slut, I've been called disgusting and fat and all the things that she was called by Rush Limbaugh. And there aren't that many women on the planet that can relate to having your name and your body be caused as a media firestorm."
McCain said she told Fluke to call her whenever she needs to "vent" and she was "here for her."
McCain said the reaction on twitter to her praise of Fluke was near instantaneous and voluminous. "Michelle Malkin, the conservative commentator, went on an absolute manic rampage attacking both of us," said McCain. "She is a woman in the media that claims to support other women, unless of course it's me and Sandra Fluke bonding together."
"Can't women disagree without becoming all these disparaging names," asked Sharpton. "We can disagree and still respect each other without calling each other these kinds of names."
McCain said that she and Fluke share a generation and she has hope for the future, whereas women like Malkin will only support women like Ann Coulter who share her ideological preference. "Women like me who am pro-gay marriage and pro-birth control and I'm against abstinence-only education – apparently doesn't fit in to the realm of being allowed to have friends with Sandra Fluke."
McCain was asked to weigh in on Republican state legislatures around the country enacting laws that some Democratic-leaning groups have deemed as representing attacks on women's reproductive rights.
"I think especially when it comes to banning birth control, it's a very dangerous issue to have highlighted right now," said McCain. "We're having a discussion about whether women should have access to birth control – which is a debate that really hasn't gone on since the 70s."
McCain said that unless the Republican party becomes more" open minded" it will be detrimental to the party's chances in the November elections.
Watch the segment below via MSNBC:
h/t The Daily Caller

Have a tip we should know? tips@mediaite.com