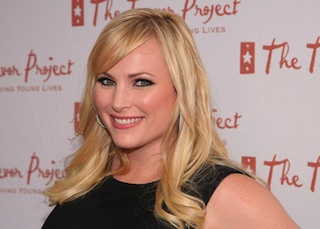 Yesterday on his radio show, Glenn Beck, perhaps a little groggy from just getting off a plane from Israel, made the incredibly ill-advised decision to spend nearly 10 minutes fake vomiting at a skin cancer PSA in which Meghan McCain pretends to be nude. Cindy McCain quickly defended her daughter on Twitter and now Meghan herself has responded in her latest Daily Beast column. The title really says it all; "Shut Up About My Body, Glenn Beck."
The column is framed as an open letter to the Fox News host with McCain taking Beck to task for his comments here and in the past:
"While we're on the subject of you vomiting on air, maybe we should have a little talk. Clearly you have a problem with me, and possibly women in general, but the truth is, it's 2011 and I heard your show on Fox was canceled. Isn't that an indication that the era of the shock jock pundit is over? Don't you think that's a sign you should be pulling it back a little? I mean, if you're too conservative and outrageous for Fox, that should tell you something. There really is no need to make something like my participation in a skin cancer PSA into a sexist rant about my weight and physical appearance, because I'm going to let you in on a little secret, Glenn: you are the only one who looks bad in this scenario, and at the end of the day you have helped me generate publicity for my skin cancer PSA, a cause that I feel quite passionate about."
Really though, McCain spends most of the time trying to make Beck feel as ashamed as humanly possible. That shouldn't be too hard though considering she really does have the high ground here. In fact, having someone call you ugly when you're merely trying to make a PSA about health safety puts you pretty safely on some of the highest ground possible. Still, though, McCain really goes above and beyond in the public shaming field here. First, she points out that she did the PSA since both of her parents suffered from skin cancer, pointing out the fact that the scar on her father, John McCain's, face was from a melanoma surgically removed when she was in middle school. Ouch. She then brings up Beck's own daughters, asking if this is the legacy he'd like to leave for them. Double ouch.
And finally, she gets in a sarcastic insult of her own:
"As a person who is known for his hot body, you must find it easy to judge the weight fluctuations of others, especially young women."
Triple ouch.
Read McCain's full column here. Watch Beck's original comments below:
Have a tip we should know? tips@mediaite.com