Meghan McCain Takes Dig At Breitbart On Al Sharpton, Claims GOP Treats Her Like A 'Mutant'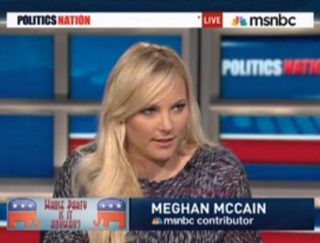 Meghan McCain is certain the reason many people in the Republican Party lack respect for her is that she is a moderate Republican. "I'm a proud moderate Republican, but moderate in the current Republican party is a dirty word," she told Al Sharpton today, asserting that this was a "scary time" politically for her, and she could not "understand the popularity of Michelle Malkin and Andrew Breitbart."

RELATED: Meghan McCain Asks If President Will Introduce Gay Marriage Bill, Twitter Conservatives Attack
"Many people in the Republican party treat me like I'm a freak," McCain told Sharpton, noting that she was "blessed" to be a moderate with a platform but "if you're not an extreme conservative in this party you are not given respect." She joked that she "works for this network for a reason"– not elaborating, she leaves that reason up to viewers. Sharpton expressed surprised that Republicans appeared "as intolerant of moderate Republicans [those] in another party." Panelist Maria Teresa Kumar, also on the panel, adding that the problem Republicans now have is that "they're going to cannibalize their supporters." McCain agreed. "Unless we're going to start building a bigger tent, we're not going to win elections– and isn't winning elections the point?" she asked.
Sharpton asked when she believed the shift towards the right began, and McCain responded that she thought it was under the Bush administration that blogs became particularly vicious (she made sure to clarify this had nothing to do with President Bush, but that the timing was during his tenure). "I don't understand the popularity of Michelle Malkin and Andrew Breitbart," she added, though noting that Democrats had an extremism problem, too. The segment concluded with McCain noting it was a "really scary time" in politics, but ultimately, "you can't actually kick me out of the Republican Party."
Much of what is stated in this clip merits reflection: the claim that it is exclusively the fact that she brands herself a moderate that ostracizes her from many conservatives; the claim from Sharpton and Kumar that this sort of thing is limited to Democrats. But the most memorable bit of the clip is and will always be that McCain chose as an example of everything wrong with the party she can't get kicked out of a man who died in March of this year– despite the fact that the thesis of her argument is that the Republican Party is teeming with extremists, coming up with the name of a so-called extremist who is still alive is too much for her. Which begs the question: doesn't Breitbart deserve an emoticon of respect at this time, less than three months removed from his death? Couldn't the name of almost any conservative blogger work in the paradigm she presented, given that she argues they all hate her?
Apparently not, and it is in her right to evoke a dead man's name to prove the conservative party has a major problem with (living) extremists. But it seems incongruous with the desire to be accepted within the Republican community to blame everything wrong with the party on "Bush-era bloggers" and Andrew Breitbart– or at the very least, unwise.
The segment via MSNBC below:

Have a tip we should know? tips@mediaite.com