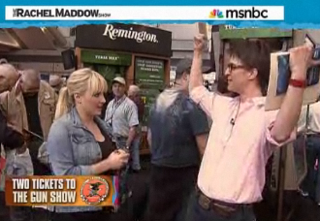 No one can ever accuse Rachel Maddow of not going out of her element to get a story. This week, Maddow made good on a promise she had made Meghan McCain to accompany her to an NRA convention, where the ideologically disparate duo found they had more in common over gun control laws than they initially thought.
Maddow admitted at the beginning of the program that, despite being a proponent of banning certain high-capacity weaponry, she was not at all opposed to the Second Amendment and shot guns herself from time to time. That said, she found herself a bit discomforted by what she described as McCain's "Second Amendment enthusiasm." "A lot of people think that I'm sort of, like, a fake Republican," McCain retorted, but her passion for the Second Amendment was "when I get, like, really conservative." That she attributes to among other things, being a single woman living alone and feeling safer around guns as well as a more philosophical belief that the good should not be punished with gun laws just in case. McCain did support gun laws banning high capacity magazines from being sold, though, and added the she wasn't alone in that assessment– former Vice President Dick Cheney thought so, too. Given that agreement, Maddow wondered why many NRA members did not feel the same.
"A lot of members are ok with it," McCain argued, but added that the major concern among members is "Where does it end? It's an 'if you give an inch they'll take a mile' mentality." If many members agreed that some restrictions should apply, Maddow then asked, why have the NRA advocate the opposite opinion? Maddow noted that two of the organization's members actually manufactured high-capacity magazines, which was "exhausting" to her, as the material interests got in the way of the due-paying members' opinions. "Is there anything you like about the NRA?" McCain asked, some what frustrated with this particular impasse. "I like the gun safety stuff that they do," Maddow admitted, and also cited some of their symbolism in pamphlet literature.
The discussion via MSNBC below:
Have a tip we should know? tips@mediaite.com