Meghan McCain: 'Would Be, Like, Slitting My Wrists' If Dad Had Endorsed 'Moron' Santorum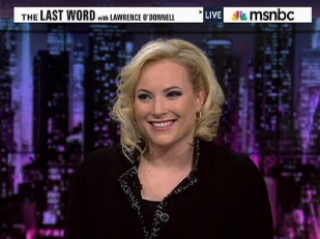 Meghan McCain is a person who gets paid to think and say intelligent things about politics on cable news. The daughter of Sen. John McCain, who before joining MSNBC was famous for tweeting a provocative photo of her breasts, joined Lawrence O'Donnell last night to discuss her father's endorsement of Mitt Romney. Other than stating the obvious about Romney ("[his sons] are just perfect and beautiful") she took the time to call someone else a "moron"– namely, Rick Santorum who, had Sen. McCain endorsed him, "I mean, I'd be, like, slitting my wrists" over it.
RELATED: Meghan McCain Predicts 'Bedlam And Hysteria' If Santorum Becomes The Nominee
O'Donnell began by noting that it was bizarre that Sen. McCain would endorse Romney because "he hates Mitt Romney," but he probably hates Santorum more. "Santorum is a moron," contributed McCain, which amused O'Donnell because "I love hearing Republicans calling Republicans morons." She then tried to say "My dad really like Mitt Romney" with a straight face, for which O'Donnell mocked her. So she tried to explain how much worse any other alternative would be: "If he would've endorsed Santorum, I mean, I would be, like, slitting my wrists."
The conversation went on, as McCain took a subtle dig at other previous Republican candidates that have not endorsed (hello Sarah Palin!) by saying that "it lacks courage" to not endorse. She went on to explain that she believed Sen. McCain "could win governor of New Hampshire" today if he chose to run (?) and "what people think about losing candidates is their prerogative." She then went on to corroborate her love of Mitt Romney by admitting to stealing his yard signs and being "obsessed with their sons, they're just perfect and beautiful" unlike the prestigious McCain family, that counts among them one of the most powerful men in the Senate but are, apparently, just "a tattooed bunch of drinkers."
Meghan McCain's quest for acceptance in punditry has, unfortunately for those who acknowledge her shortcomings, the built in invulnerability of gaining strength from criticism, in the unhealthiest way. By virtue treating her on equal footing with people who have earned the right to a place in the public discourse, McCain wins. And for a long time, McCain has benefited from the unavoidable reality that, youth notwithstanding, she is simply not in the same intellectual league as her contemporaries on both the left (Ezra Klein, Chris Hayes) and the right (Andrea Tantaros, Mary Katharine Ham). Half out of pity and half out of, perhaps, having better things to do, it has been a hallmark of media criticism of McCain that it is tailored to her levels of comprehension and apparent sensitivity and thus much milder than her actual statements deserve. When she has been attacked harshly, it has not been for the waste of time and energy that she represents in the public consciousness, but for entirely unfair and superficial reasons, and those that called out Glenn Beck, among others, for ignoring her words and resorting to cruelty have been correct.
And so to actually sit down and analyze why comments like "[Mitt Romney]'s son are perfect and beautiful" and "I mean, I would, like, slit my wrists" are not actually political insights that should be on any respected political venue is, at the very least, a tedious endeavor. Simply put, there's a reason why O'Donnell talks down to McCain in a way that he did not even do when he had a high school girl on the program explain why she thought Rep. Michele Bachmann was dumb. No one ever leaves a Meghan McCain column or a segment on cable news thinking, "wow, I hadn't thought of that" or "I'm glad I took the time to figure out what this woman is thinking." Those on the left may leave a McCain appearance or column with a chuckle, as she confirms many patronizing stereotypes about the right– perhaps this is what makes her a perfect fit on MSNBC. Say what you will about polemics on both sides of the aisle– from Rachel Maddow to Sean Hannity— every extreme and eye-catching comment they make is balanced by an insight into their worldview that reminds the viewer they are worthy of their place in primetime. The same can be said of McCain's contemporaries– so as to control for the fact that it is unfair to compare commentators that have decades of experience on McCain with her. For every silly, off-the-record email or outlandishly out-of-nowhere attack on ideological parties that are later proven correct, there's the sense of passion for knowledge and simple intellectual effort that is sorely lacking from the McCain experience, and as long as that fact is ignored by those whose hearts are softened by such political laziness, she'll be ready for the airwaves, prepping to call someone else a "moron."
The segment via MSNBC below:
[h/t The Blaze]
Have a tip we should know? tips@mediaite.com