Meghan McCain's Feud With Gingrich Rolls On: Treatment Of Bachmann Could 'Obviously' Be Sexist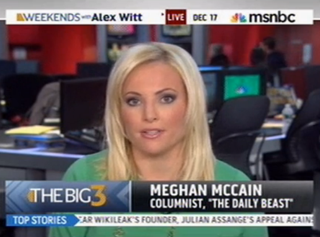 Meghan McCain is no fan of Newt Gingrich— this she has made as public as can be. With new attacks surfacing at Gingrich for his treatment of Rep. Michele Bachmann a Thursday's debate– namely, that such treatment was sexist– McCain appeared on MSNBC today to confirm that his behavior "can obviously be interpreted as sexist," and that, while she was no Rep. Bachmann, she had been on the other side of it herself.
RELATED: Meghan McCain Bashes Newt Gingrich, Jay Leno Calls Him A 'Hot Air Balloon'
McCain appeared as a guest on Weekends with host Alex Witt and fellow panelists Goldie Taylor and Erin McPike. Taylor started off the conversation arguing that the criticism of Gingrich was not fair, and that "Michele Bachmann might be a lunatic, but she is not the lunatic Newt Gingrich thinks she is." She added that the fact that Gingrich "takes Rick Santorum seriously, takes Ron Paul seriously" indicates that this has nothing to do with poll numbers, that the disdain was "absolutely clear, and her response was absolutely right."
McCain then responded, with the caveat that she, too, had been on the receiving end of some Gingrich barbs. "It can obviously be interpreted as sexism," McCain noted, adding that, "not that I would compare myself to Michele Bachmann, but he did say 'how would someone like her have a clue?' as if women in politics couldn't possibly have an understanding of the political process." She concluded that "my personal experience is he was condescending to me, I believe, specifically because I was a young woman," in a way he did not behave with men.
McPike replied to both that the treatment "didn't seem overtly sexist to me" because Gingrich was so condescending and disrespectful in general, not just to women.
The segment via MSNBC below:

Have a tip we should know? tips@mediaite.com