Megyn Kelly Advises Women Not to Accuse Each Other of Sleeping Their Way to Top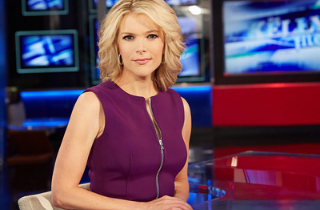 In what honestly reads as the all-time standard for a path to success, Fox News anchor Megyn Kelly tells Cosmopolitan that women working to get ahead shouldn't waste time comparing themselves to one another.
The new interview focuses on how Kelly ended up as an ever-rising cable news star at Fox News and the career advice she can offer other women (though it easily applies to men as well), emphasis added.
From the interview, a tip to women in "cattier circles":
There hasn't been a five-year plan, and I don't really believe in that. I know many people do. What I believe is, if you keep your nose down and your mouth shut and work hard, opportunities will present themselves.

It goes back to outhustling everybody. Take all that energy you're putting into looking at the woman who got promoted next to you and thinking, 'She didn't deserve it! Why didn't I get it?' and in the cattier circles, 'She must be sleeping her way to the top!' and put all that energy back into yourself. You take all that energy that you put into sometimes negative thinking and put it back into yourself. Ask, 'How can I get this job? How can I do better? How can I be better?'

You may not be the smartest. If you're in a job that is in any way focused on appearance, you may not be the most beautiful. You may not have the best academic pedigree. You may not be the one who has the strongest résumé in terms of experience. But what do you have? What can you get? You can get smarter. You can get more informed. You can round out your skills in other ways to make yourself shine.
Kelly has become something of a life coach lately. She recently told Forbes about the best advice her boss, Fox News CEO Roger Ailes, gave her ("never worry" about the people who would imitate her) and also revealed that it was TV personality Dr. Phil McGraw who inspired her to switch careers from law to television.
[Photo via Fox News]
— —
>> Follow Eddie Scarry (@eScarry) on Twitter
Have a tip we should know? tips@mediaite.com