Megyn Kelly Airs Audio From 'Swatting' 911 Phone Call Targeting Conservative Bloggers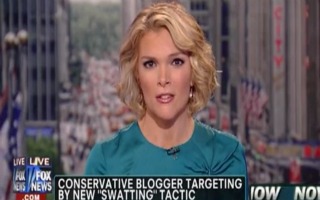 Recently, several conservative bloggers including Assistant Los Angeles District Attorney and conservative blogger John "Patterico" Frey and Red State.com blogger Erick Erickson have been targeted by opponents who have spoofed their phone numbers and called police to their homes. On Wednesday, Megyn Kelly aired a portion of one of those phone calls.

RELATED: Megyn Kelly Panelist Compares Obama Campaign Slogan To New Coke: 'Nobody Likes It'
Erickson was targeted by the tactic, known as "swatting," in which his home phone was spoofed and a call sent to 911. Some suggest the intention behind this tactic is to provoke an armed police response to those bloggers homes.
"Whoever is pulling off these hoaxes is covering their tracks pretty well, because there are no suspects," said reporter Trace Gallagher. He outlined what happened to Erickson who tweeted his experience live as the police responded to his house after receiving a call that said there had been a shooting at his house.
Gallagher outlined what happened to Frey, and aired a portion of the spoofed 911 call that targeted him:
911 Operator: Who was shot?
Caller: A woman… a man shot her.
911 Operator: What man shot her?
Caller: I shot her…
911 Operator: You shot her?
Caller: …My wife.
911 Operator: You shot your wife?
Caller: Yes.
Gallagher said that police responded to the call with helicopters and drawn weapons, waking up Frey's family in the middle of the night. Gallagher also says that conservative bloggers are being targeted by a tactic known as "Google bombing" in which large amounts of erroneous and personal data is released – including false arrest records – to embarrass those targeted conservative bloggers.
Unmentioned in the story on Fox News over the new epidemic of "swatting" is that Erickson and Frey linked these incidents to their recent focus on liberal blogger Brett Kimberlin.
Kimberlin, who was convicted domestic terrorism and recently released after serving a portion of a 50-year sentence, has been the focus of several posts by the conservative bloggers who were recently targeted in those "swatting" attacks.
Watch the segment below via Fox News Channel:
Have a tip we should know? tips@mediaite.com