Megyn Kelly And Eric Bolling Clash Over Whether Coaches Should Be Able To Push And Shove Their Athletes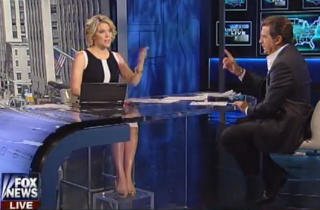 Fox's Eric Bolling talked to Megyn Kelly this afternoon about his Wednesday remarks that the firing of Rutgers coach Mike Rice represents "the wussification of American men."
Rice was fired by Rutgers this week after ESPN footage showed him physically disciplining his athletes while shouting homophobic slurs at them. Off the bat, Bolling clarified his earlier remarks to Kelly by noting that he does not condone the coach's language whatsoever, but reiterated that he believes Rice should not have been fired for the pushing and shoving of players as part of disciplinary coaching.
"No question he's a tough coach," Bolling said. "I've played for a lot of coaches like that. And let me tell you something: the best coaches are coaches like that."
After remarking that he's received angry emails since defending Rice yesterday evening, Bolling remarked, "We are so afraid to discipline our kids. We are so afraid to tell our kids we disagree with what they are doing. Everyone gets a participation trophy. There's no winners, there are no losers in American life anymore. We are wussifying American men and it has to stop."
Echoing the sentiments of his colleague Sean Hannity, Bolling asked what it would be like if we told a military drill sergeant not to get in the face of his soldiers. "We'd be losing wars all over the place" if that were the case, he suggested.
When Kelly expressed her negative feelings towards Rice's pushing and shoving of athletes who "can't fight back," the two went back and forth over whether it's "degrading" and "humiliating" to be treated that way by a coach. When pressed to "draw a line" for when it becomes physically "abusive," Bolling said throwing punches would be egregious, but grabbing and shoving by a coach is acceptable.
A former minor league baseball player, Bolling recalled the time he was intentionally hit by a pitch for disciplinary measures. "If they set the bar at 'You can't grab the guy's shirt or throw a ball at his feet,' you'd probably have to eliminate two-thirds of coaches in America," he said.
"No racial or anti-gay slurs, and don't hit anyone," Bolling concluded. "I'm not for that."
Watch below, via Fox:
— —
>> Follow Andrew Kirell (@AndrewKirell) on Twitter
Have a tip we should know? tips@mediaite.com