Megyn Kelly And Former U.N. Ambassador John Bolton Take On Anna Wintour Diplomat Rumors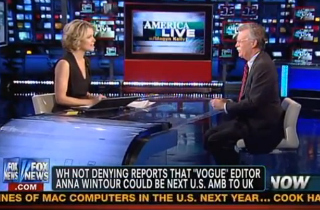 This afternoon on Fox's America Live, Former U.N. Ambassador John Bolton applied his diplomatic expertise to analyze the rumors about Vogue editor Anna Wintour being a potential Obama pick for the new ambassador to the United Kingdom or France.
Host Megyn Kelly introduced the segment by running a clip from The Devil Wears Prada, the 2006 film based on a novel that is loosely about Wintour.
Kelly also noted that the Meryl Streep-starring film became the butt of White House press room jokes last night when ABC's Jake Tapper grilled W.H. Press Secretary Jay Carney over the Wintour rumors, jokingly asking if the president has seen the movie.
"How do you know she's not going to be the next Secretary of State?" was Bolton's initial reaction. "Why limit her to a mere ambassadorship? It wouldn't surprise me," he continued, noting the fact that large contributors to presidential campaigns generally get appointed to such prestigious positions. Wintour was one of Obama's top bundlers this election cycle.
"I would not underestimate how important it is overseas to have somebody who knows the president personally, who could call the president if they needed to," Bolton said without directly praising Wintour's credentials. "And here's the really important thing: someone who cares first and foremost about the president's policy, not about what the bureaucracy at the State Department wants, but about the president's policy.
Asked what exactly the U.K. ambassador does, Bolton said that "a lot of it is what they call the representational function, showing up with the flag, literally, at ceremonies, going to receptions."
"Looking good, having the right evening gown," added Kelly. "I mean, she's perfect!"
The Fox anchor then asked whether Wintour's reputation for being undiplomatic in her business setting could pose a problem for her as diplomat, seeing as how many in Congress reacted poorly to Bolton's own nomination due to his famously brash attitude.
"I was criticized because I said things directly," he responded, "and I think, in America, plain speaking is a virtue, and I think it's a virtue in diplomacy too."
He later noted that he doubts Wintour would face the scrutiny he did when he was nominated, and added that the measure of a good diplomat is "whether you communicate effectively what the American position is and advocate American interests. And I think if there's a problem with our diplomacy generally, it's that our diplomats are not effective advocates. Now, if Anna Wintour can be effective, more power to her."
"And re-do the whole fashion scene over in France or the UK," joked Kelly in return.
Watch below, via Fox:

— —
>>
Follow Andrew Kirell (@AndrewKirell) on Twitter
Have a tip we should know? tips@mediaite.com