Megyn Kelly And John Stossel Debate Pornography From The 'Big, Fat Federal Government'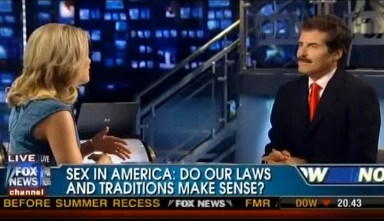 On his usual appearances alongside Megyn Kelly, John Stossel limits his libertarian leanings to debating feudalism, showing off his mustache, and taking rides on his government-funded go-cart. For better or worse, today's conversation took a turn for the awkward, with Stossel as a passionate defender of bad Showtime pseudo-porn against big government overreach.
A slightly queasy Megyn Kelly began the segment by taking the term "public square" as literally as possible, telling Stossel: "You think the more sex the better- let's show it in the public, let's have it on the internet, let's go for it." Luckily for everyone, "sex in the public square makes [Stossel] as uncomfortable as anyone," but that's where the line ends for him, taking the "more freedom" stance and defending sex on cable TV and the internet.
Kelly seemed particularly irritated on the matter of internet porn, reading from a court ruling that claimed "internet porn is the new crack leading to addiction, misogyny, pedophilia, boob jobs, and erectile dysfunction." Predictably, Stossel blamed this on big government: "That sounds like a psychologist looking for a government grant," and later argued that he say little damage could come to children who were exposed to breasts.
The latter came about as a result of Kelly's outrage at "boobgate," the time about a decade ago when millions of unsuspecting children were exposed to the horror of Janet Jackson's bejeweled nipple during the Superbowl. In light of that, Kelly saw no problem with the federal government banning all "boobs" from television. Stossel, dismayed, argued that "some people want to watch boobs!" and that cable TV and "Showtime" and the like should not be subject to the federal government's prudish whims. Needless to say, both Kelly and Stossel used the word "boobs" way more than necessary to make their points.
For those of you that need to watch even more of John Stossel defending porn, he's got an hour's worth of it coming up on his eponymous Fox Business show.
Below is the discussion, in which, besides the strange nature of the conversation, you'll find one of the strangest and most random montages in the history of Fox News, including clips of Stossel filming unsuspecting Times Square porn shop customers walking out with their purchases, boot camp footage, Lady Gaga, Bill Clinton (Bill Clinton!) warning about the threat talking about sex represents to children, and plenty of PG-rated internet porn previews:
Have a tip we should know? tips@mediaite.com