Megyn Kelly Battles D.C. Quadruple Murder Suspect's Lawyer: 'You Undermine Your Credibility!'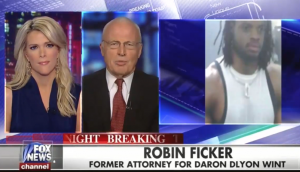 During Thursday evening's The Kelly File, Fox host Megyn Kelly continued her reputation as an aggressive interviewer when it comes to legal matters, getting into a heated tussle with the D.C. quadruple murder suspect's former attorney.
First, the backstory, via our own Matt Wilstein:
Last week, three members of a wealthy Washington, D.C. family, along with a housekeeper, were found tortured and killed in their home, which was then set ablaze by an unknown assailant. Now, authorities have named Daron Dylon Wint as the prime suspect in the murders. And they identified him using DNA left on the crust of one of two pizzas he ordered while holding the family hostage.
[P]olice are searching for the 34-year-old Wint, who is believed to have traveled from D.C. to New York City and has previously faced charges of "theft, assault and a sexual offense." He is wanted for first-degree murder in the deaths of Savvas Savopoulos, the CEO of a Maryland building materials manufacturer, his wife, Amy, 10-year-old son Philip and their housekeeper, Veralicia Figueroa.
Wint's former attorney Robin Ficker sparred with Kelly over his former client's innocence, with the lawyer maintaining that he knows the young man to be a "very nice, kind, gentle person" who has fallen victim to "injustice" within the legal system.
In response, Kelly rattled off a series of previous charges against Wint, including assaulting his girlfriend, malicious disruption of property, and carrying a machete outside his company offices. "He doesn't really sound like that good of a person," she said.
Asked what Wint's DNA was doing on the pizza found at the murder victims' home, and why surveillance footage seemingly shows the suspect running from the area, Ficker pushed back that there is no proof the pizza was ever found inside the home. "It's a barbaric murder, but that is not him in the footage," he continued. "I know what he looks like. There is no facial features in that photograph."
When Kelly listed a few other violent criminal allegations against Wint, including "threatening to shoot his own father," Ficker pushed back that "there are no attempted murder charges in that case or any shooting charges."
Kelly went off: "You're kidding me. You're undermining your own credibility by making those outrageous statements, sir. I appreciate your role as a defense attorney, it's an important role in this country. But it's ridiculous."
And Ficker concluded: "Because someone has an argument with his dad you think he's guilty of four homicides? I don't think so."
Watch the full segment below, via Fox News:
[Image via Fox News/screengrab]
— —
Have a tip we should know? tips@mediaite.com