Megyn Kelly Battles With Democratic Guest Over Obama Appearing On The View Instead Of Meeting With World Leaders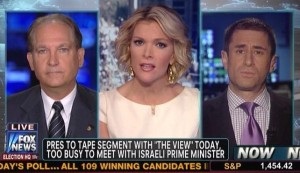 In a panel discussion Monday about President Barack Obama taking a sit down interview with The View this week instead of taking traditional meetings with world leaders during New York City's United Nations General Assembly week, Fox News Channel host Megyn Kelly battled her Democratic guest when she believed he was straying from the topic. Her guest repeatedly said that Obama's handling of foreign affairs has the approval of a majority of voters, over the objections of Kelly who said that the president's record on international relations was not the topic in question.

Kelly asked former Bush administration official Brad Blakeman if it was fair to criticize Obama for not meeting with world leaders when the President of the United States. Blakeman, not surprisingly, replied that it was not only acceptable but important to critique Obama for not taking those traditional meetings.
"I scheduled a president for three years – President George W. Bush – and, quite frankly, we wouldn't' have had time for The View because it would have been jam-packed with bilaterals at the Waldorf where world leaders were coming, one after the other, to sit down with the president and have a discussion – something that you really can't accomplish on the other end of a telephone," said Blakeman.
Author and former pollster for President Bill Clinton, Bernard Whitman, disagreed. "I think it's absolutely laughable that Chris Wallace is schooling the president on foreign affairs," said Whitman
He started to detail the reasons why President Obama's record on foreign policy was strong before he was interrupted by Kelly.
"The question is, is it fair for them to criticize him for meeting with the ladies of The View but not world leader," said Kelly. "It's not whether he has a good foreign policy record or not."
"It absolutely is," Whitman fired back. He went on to define what, in his opinion, were the benefits Obama administration had delivered to the American people regarding foreign affairs before he was again cut off.
"You know what, Bernard? As the anchor, I will decide what we ought to talk about," said Kelly. Whitman replied that it was his opinion that the American people should be talking about Obama's record.
"The fact is, every person does not get the chance to meet with the President of the United States," Whitman said.
Watch the segment below via Fox News Channel:
> >Follow Noah Rothman (@Noah_C_Rothman) on Twitter
Have a tip we should know? [email protected]