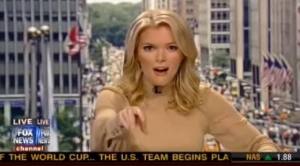 Today on her show, Megyn Kelly took some time off to discuss some of the more fun stories in the news. One of which was the recently published photos of White House staffers Tommy Vietor and Jon Favreau kicking back and playing some Beer Pong. While that story should be funny enough, the piece got to new levels of awesome when Kelly gave a suspiciously experienced-sounding description of the drinking game's rules.
Now, I can already hear the usual Megyn Kelly detractors saying that this little bit of on air fun proves that Kelly is just a pretty sorority girl with a news show. For me though, this segment cements Kelly as one of my favorite women on television (what can I say, I hold my news anchors to weird standards). I love a little humanity in my TV personalities and I love Beer Pong, which is why I want to use this opportunity to send out the following message:
Megyn,
If you're reading this (and lets be honest, in the day of the Google News Alert, you totally are), I want to challenge you to a Mediaite/Fox News Beer Pong tournament. You grab someone from the Fox News staff or your Beer Pong fan husband and head on over to SoHo (or a location of your choosing) where myself and another Mediaite writer will take you down the only way journalists know how: with college drinking games. Hell, we'll even throw in a little Flip Cup while we're at it. And, yes, I know you know what Flip Cup is.
So please accept this challenge, Megyn. I promise it will be more fun than five Biden Beach Barbecues combined!
Best,
Jon
Below is the clip which is sure to get you all ready for the weekend.
UPDATE: Later in the show, Kelly also explained what the "Walk of Shame" meant. Either she had a college reunion recently or she's just already in the mindset of her vacation next week. If we could figure out how to challenge Fox News to a "Walk of Shame" tournament, we totally would.
SECOND UPDATE: Oh, it is on! Chris Balfe, the President & COO of Mercury Radio Arts who put out The Glenn Beck Program, tweeted this to our own Steve Krakauer.
Have a tip we should know? tips@mediaite.com