Megyn Kelly Confronts Daily Beast Reporter over Trump Piece: Why Is This Relevant?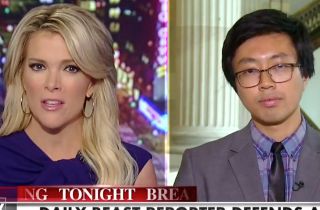 Megyn Kelly tonight confronted Tim Mak, one of the Daily Beast reporters behind last night's big Donald Trump report. This report went into some detail about a 1989 accusation from Ivana Trump that her then-husband raped her (an accusation she later backed away from). But, of course, the attention was mostly focused on the over-the-top statements from Trump special counsel Michael Cohen, who repeatedly and profanely threatened the Daily Beast reporters and even said that legally speaking, "you can't rape your spouse."
Kelly pressed Mak on why this was "relevant" when the accusation was from decades ago. Mak said that because Trump made outlandish remarks about Mexican immigrant rapists, it was completely fair to look into whether Trump himself has ever faced such accusations.
Kelly wasn't quite clear on why that necessarily has to reflect back on Trump, and even pointed out that "divorce proceedings are notoriously ugly," so spouses say things sometimes that they later regret. Mak said it was perfectly "fair and it's factual."
They also addressed Cohen's comments, which Kelly called "deeply offensive," and to Mak it "raises questions" about who Trump chooses to associate with.
When Kelly spoke with Howard Kurtz right afterwards, she said the report may have come across as a "hit piece" and questioned whether they would do a similar report on Bill Clinton's past, but conceded that they did have a legitimate basis for their reporting.
Watch the video below, via Fox News:
[image via screengrab]
— —
Follow Josh Feldman on Twitter: @feldmaniac
Have a tip we should know? tips@mediaite.com
Josh Feldman - Senior Editor