Megyn Kelly Confronts Pastor for Suddenly Going Mum on Al Sharpton Criticism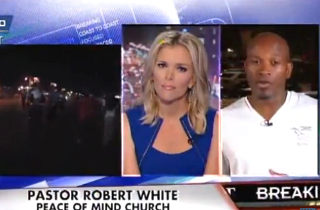 While covering the Tuesday evening protests in Ferguson, Fox host Megyn Kelly interviewed a local pastor who was highly critical of Al Sharpton. Only one problem: Between the time he spoke to Fox producers and the time he went on-air, the pastor softened his feelings on the reverend.
Shortly after midnight, Kelly introduced Peace of Mind Church Pastor Robert White, whom she described having "been out there trying to maintain calm and lower the temperature." She asked him: "You don't think Al Sharpton is helping or Jesse Jackson, why?"
White's response stunned the Fox host:
Um, actually, we do appreciate the support that we've gotten from our national leader. Mr. Sharpton has provided some invaluable support to us at the local level. And if I can just reiterate what he said: "We have had enough. We want to know where justice is." So after talking to Mr. Sharpton, sitting down with him, he's actually providing some intel and some strategies for us as local leaders on how to keep the peace.
"I just want to make sure I understand what you're saying about the Reverend Al Sharpton," Kelly pressed, "because you spoke with our producers earlier and said that you believe that Rev. Jackson or Rev. Sharpton were only here for a photo op and you were critical of them."
She asked with obvious skepticism: "Are you saying that since then, you've sat down with Al Sharpton and you've come to a different point of view?"
"I think the power of words have allowed me to have access to sit with him and talk," White replied. "He gave me an opportunity to not just see what is on the news but to sit down and talk with him about strategy going forward."
"Let me guess," Kelly responded with a smirk, "those strategies include you not criticizing him anymore?"
White asserted that he has no problems criticizing Sharpton — "We're not going to agree on everything," he said — but that right now he wants to join the reverend in trying to "eliminate the number of guys being arrested and killed as well as number of outside agitators coming here causing this ruckus in our community."
Kelly charged that Sharpton himself has been accused of being an "outside agitator," prompting a debate between the pair over whether it's fair to suggest police officer Darren Wilson is guilty.
Watch the full interview below, via Fox:
— —
>> Follow Andrew Kirell (@AndrewKirell) on Twitter
Have a tip we should know? tips@mediaite.com