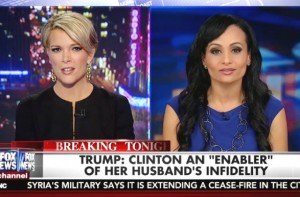 Megyn Kelly confronted Donald Trump spokeswoman Katrina Pierson tonight over whether his use of the word "bimbo" is sexist.
Pierson kept insisting that Trump isn't sexist because he attacks men and women. Kelly brought up the argument that Trump strikes a very different tone with women and asked, "What about the word bimbo?"
There was a brief, awkward pause before Pierson walked away from directly addressing it. Kelly followed up, "So that word is fine by you, you don't see that word as sexist at all."
Pierson started by saying "Even if it is sexist or not sexist, depending on how you perceive it…" before firmly stating once again that Trump only criticizes people who criticize him first.
In looking for mentions of the word "bimbo" on Trump's Twitter timeline, we found four tweets. Three were retweets (so basically him endorsing the use of the word) and one of them was a sarcastic invocation of the word by Trump himself. Guess who all four tweets are about:
"@timjcam: @megynkelly @FrankLuntz @realDonaldTrump Fox viewers give low marks to bimbo @MegynKelly will consider other programs!"

— Donald J. Trump (@realDonaldTrump) August 7, 2015
"@mstanish53: @realDonaldTrump @megynkelly The bimbo back in town . I hope not for long ."

— Donald J. Trump (@realDonaldTrump) August 25, 2015
I refuse to call Megyn Kelly a bimbo, because that would not be politically correct. Instead I will only call her a lightweight reporter!

— Donald J. Trump (@realDonaldTrump) January 27, 2016
"@gene70: @FireFlyFury @megynkelly @realDonaldTrump And this is the bimbo that's asking presidential questions? pic.twitter.com/oU1uUGnuWb"

— Donald J. Trump (@realDonaldTrump) January 28, 2016
Watch above, via Fox News.
[image via screengrab]
— —
Follow Josh Feldman on Twitter: @feldmaniac
Have a tip we should know? tips@mediaite.com
Josh Feldman - Senior Editor