Megyn Kelly Examines Obama Team's Targeting Romney Donors: Obama May 'Name You And Shame You'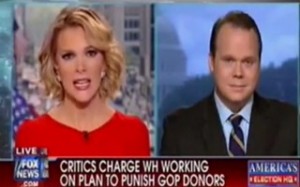 Fox News Channel host Megyn Kelly on Tuesday identified a tactic that the Obama campaign appears to be embracing; the public outing of Republican candidate Mitt Romney's big dollar donors. Kelly warned Romney supporters in her segment that the Obama team is preparing to "name you and shame you."

RELATED: The Five Asks If President Obama Has An 'Enemies List'
We are learning new details today about a draft White House executive order and similar legislation in the Congress that would force companies to reveal political donations in order to bid on government contracts," said Kelly. "We are told that the executive order is on hold for now. Just yesterday, we saw the president' reelection team to name and shame donors to Mitt Romney."
Kelly went on to identify a recent Obama campaign tactic that appears to targeting private citizens by naming them as Romney donors on various social media outlets and directing Obama supporters to ridicule them.
Fox News digital politics editor Chris Stirewalt was asked by Kelly what corporate donors can expect should such an executive order be finalized. Stirewalt told Kelly that
"If you want to do business with the federal government, it would mean that you would have to make an additional disclosure which would then put you on the list and you would have to be out there," said Stirewalt. "That's not a position that people want to be in if they're doing business with the federal government, especially if what they're doing is supporting the party out of power and supporting the challenger to the president who is in the Oval Office."
Stirewalt continued, saying that the "shadow campaigns" that are Super PACs are the targets of this type of legislation in order to discourage donations to those PACs.
"There's some risk in donating a considerable amount to Mitt Romney because the president's reelection team may name you and try to shame you," said Kelly.
She asked if these attacks on private citizens are a bipartisan phenomenon. Stirewalt agreed, but he said that there is a risk for the President to be seen as doing something that is "creepy" or that makes people "nervous."
"There is a, sort of, Nixonian vibe," said Stirewalt.
Watch the segment below via Fox News Channel:
Have a tip we should know? tips@mediaite.com