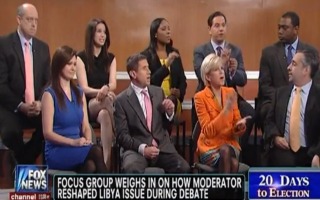 A focus group of media professionals convened by Fox News Channel's Megyn Kelly burst into a heated yelling match on Wednesday during a discussion of CNN anchor Candy Crowley's performance as the moderator of the second presidential debate.

RELATED: Candy Crowley's Debate Moderation Exemplifies Why Americans Do Not Trust Their Media
Several of the Republican focus group participants said that they believed Crowley's fact checking was inappropriate, both because she was supposed to be the impartial moderator and because the fact that she checked was debatable.
Media writer and entrepreneur Carol Roth said that it was "clear that she was the third debater" during the town hall-style debate. "If we wanted somebody who was a surrogate or somebody who was a pundit, they should have clearly said this was her role," said Roth. "But her role was to moderate, and she didn't do that in an effective way."
Democratic pollster Bernard Whitman disagreed, however, saying that Crowley was an exemplary moderator and "did a great job pushing back against a bully" in Mitt Romney. "It's sort of amazing that in the face of a relatively poor performance by Romney, all we are talking about is the moderator Candy Crowley."
Former speechwriter for President George W. Bush, Tracy Davis, said that Crowley acted "like God." She said that it was inappropriate for Crowley to interject her opinion or a fact check because the participants could not argue with her as the moderator.
"We should have been talking about Benghazi and the four dead Americans," said Dee Dee Benkie. "This is a very important subject matter and look what we're talking about. Candy Crowley."
Kelly asked Republican panel participants if they were upset because of Crowley's actions or because Romney failed to capitalize on the moment as well as they wished he had. At this point, the panel exploded as all participants voiced their views.
"Romney is not used to being checked on facts," said Left Action founder John Hlinko. "This was new for Romney to have somebody push back. I think Mitt is short for mythological." He concluded by saying that he thought it was a great idea to have fact checkers on site during a debate to offer live admonitions of candidates who stray from the facts.
"Is there anybody on this panel who believes that Barack Obama was declaring this to be a terrorist attack," Kelly asked. Most of the panelists did not, save for Democratic strategist Zerlina Maxwell who said that the distinction did not matter.
Watch the panel segment below via Fox News Channel:
> >Follow Noah Rothman (@Noah_C_Rothman) on Twitter
Have a tip we should know? tips@mediaite.com