Megyn Kelly Forcefully Grills Bob Beckel Over His Proposal To 'Cut Off' Giving Visas To Muslim Students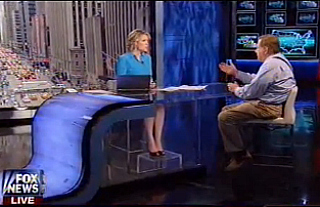 On Fox's The Five last night, co-host Bob Beckel advocated for the temporary ending of student visas for foreign Muslim students as a means to combating homegrown terror. The remark generated much controversy, especially given Beckel's liberal political background, and so he appeared on America Live this afternoon to defend himself.
"I think we really have to consider, given the fact that so many people hate us," Beckel said yesterday, "that we're going to have to cut off Muslim students coming to this country for some period of time so that we can absorb what we've got, and look at what we've got, and decide whether some of the people here should be sent back home or to prison."
When host Megyn Kelly challenged Beckel to defend his controversial suggestion, he explained: "It wouldn't have stopped the Boston Marathon bombing, but there is a lot of investigation that needs to be done and take a break and get that done and take a two-year hiatus" from giving out visas to students from Muslim countries.
"How do we get there?" Kelly asked, pointing out that among 75,000 Muslim student visas, only five have been linked to terrorist activities. "The numbers are not in favor of saying let's penalizing," she added.
"Of the 74,995, how many of those have been looked at very carefully?" Beckel replied. "We have a lot of students here who may themselves harbor feelings about resentments. They come from countries where they brainwashed from the United States from the beginning."
– RELATED: Coulter To Geraldo: We Should Have Police Surveillance In Every Mosque — 'It's Not A Private Relationship'
"If that's true, why aren't we seeing mass attempts of terror by these students?" Kelly challenged. "The facts don't bear it out."
Beckel clarified that his main focus was on the Muslim countries he believes automatically harbor resentment against the United States. "We could save one Boston Marathon event or one child's life by saying we need a two-year hiatus from countries that do not like us."
With that in mind, Kelly asked whether Beckel would include Russia in that hiatus, seeing as the two Boston bombing suspects come from Chechnya, a federal subject of the Russian Federation, to which he seemingly replied yes (with the caveat that he'd simply like to prevent the entry of Muslim students from those countries).
Kelly also grilled Beckel on whether this mentality would lead to something similar to the Japanese internment camps employed by the United States during World War II. "You are in a dangerous place," she told him.
"There is a potential of 75,000 people in this country of finding one or two more terrorist acts to take place," he said. "We also know that Muslims in this country that become radicalized in this country because they have gone to mosques and picked up on this. Some are under the influence of foreign imams. It's a risky situation."
Watch below, via Fox:
— —
>> Follow Andrew Kirell (@AndrewKirell) on Twitter
Have a tip we should know? tips@mediaite.com