Megyn Kelly: Fox Has Been 'Lopsided' In Coverage Of Benghazi Testimony, Vows To 'Rectify It'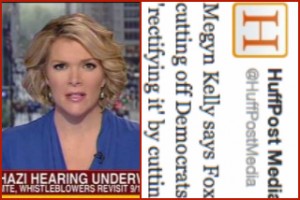 Seemingly without any provocation, Fox News anchor Megyn Kelly told her audience this afternoon that the network's coverage of the testimony of three Benghazi whistleblowers has been "lopsided" because of what she believed was a disparity in how many Democratic and Republican legislators' remarks were being cut off by commercial breaks. Preempting any potential criticism, Kelly, in a very professional manner, then vowed to "rectify" the situation.

Fox was the only cable news network to go wall-to-wall with coverage of the first few hours of the Benghazi hearings. After nearly an hour of uninterrupted testimony, Fox was forced to give in to the cable news necessity of commercial breaks, cutting into the remarks of Reps. Elijah Cummings (D-MD), Carolyn Maloney (D-NY), Jim Jordan (R-OH), and James Lankford (R-OK).
As Rep. John Mica (R-FL) began his remarks, however, Kelly cut into the coverage by telling her audience: "We're trying to get in our commercial breaks here, and now we're getting a little lopsided in terms of the Democrats and the Republicans. So we're going to try and rectify that after the break and play more of Mr. Mica after this."
Huffington Post's media page interpreted this as Kelly conceding that Fox had cut off too many Democrats during its coverage: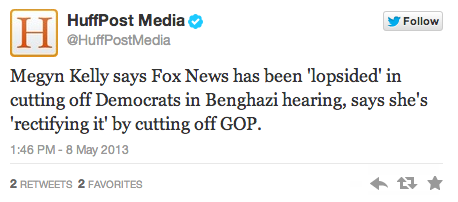 But it's unclear which way Kelly was suggesting the network's airtime had been "lopsided." As noted above, an equal amount of Democrats and Republicans had been cut off by commercial breaks before Kelly made note of any potential situation.
And by cutting off Mica while promising to air more of his remarks following the commercial break, perhaps Kelly was suggesting that the numbers she sought to rectify were actually slanted in favor of Democrats. After Mica wrapped up, Kelly then cut into the testimony of Rep. Stephen Lynch's (D-MA) testimony, reiterating to her audience that she'd like to "even it up."
In the next hour, Kelly expressed her own empathy with any audience frustrations over commercial breaks during the long-awaited Benghazi hearings:
"I understand it's irritating to watch a hearing and have to take commercial breaks. But, as it turns out, it costs money to keep the Fox News Channel on the air. And so we have to take them. But we've been doing our best to bring you the news and pay the bills as well. So… our apologies for the irritating nature of that, but welcome to cable television."
Watch the three clips below, via Fox:
— —
>> Follow Andrew Kirell (@AndrewKirell) on Twitter
Have a tip we should know? tips@mediaite.com