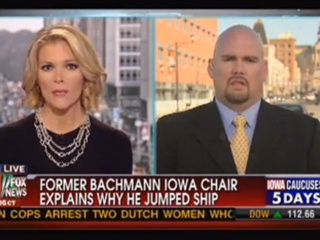 Iowa State Senator Kent Sorenson may have become one of the most important characters in the Iowa Republican primary saga literally overnight with his somewhat surprising appearance at a Rep. Ron Paul rally last night, endorsing that candidate while still serving as the State Campaign Co-Chair of Michele Bachmann for President. He had more than a few questions to answer today to Megyn Kelly, who asked him several difficult questions about his move, including whether he was paid to make the switch.
RELATED: Rep. Bachmann Iowa Campaign Co-Chair Endorses Ron Paul At Rally
"You know how to cause a controversy, don't you, sir?" Kelly told him by way of introduction, to which she received a sheepish "that was not my intention." Kelly explained the situation– in which Sen. Sorenson, while still the Iowa Bachmann campaign co-chair, gave a speech endorsing Rep. Paul last night— and noted that "people are apoplectic now and calling you disloyal. What say you?" Sorenson alleged that she "got the facts a little wrong there" and began to explain that he had a long history with the Ron Paul team from his history in Iowa politics.
Kelly didn't have any patience for this explanation, cutting him off because "frankly, our viewers don't really care about your election battle," so Sorenson cut his explanation short, concluding that "I had to make a tough choice and it was difficult," but he had to be loyal. This was understandably something of a confusing statement given what he did last night, so Kelly pressed him to answer why he switched
Sorenson responded that he had considered supporting Rep. Bachmann and had called the Rep. Paul camp when she made her announcement as a candidate to see where Rep. Paul was in the deliberation decision, and was told that he was still unsure as to whether he would run or not. With that in mind, Sorenson went over to the Rep. Bachmann camp, and only after he did so did Rep. Paul announce his candidacy. "He came to my aid when I was in two tough battles," he noted, and he needed to reciprocate.
Then Kelly turned to the bribery allegations– that Rep. Bachmann said he personally told her he was paid to "jump ship." "I think it's unfortunate they're choosing those types of tactics," he responded, adding that he never "had that conversation with Michele Bachmann" and that he was "absolutely not" offered "a nickel" for defecting. When asked directly whether he was saying that Rep. Bachmann had told an "explicit lie," he answered in the affirmative.
Ball is in your court, Bachmann camp.
The segment via Fox News below:

Have a tip we should know? tips@mediaite.com