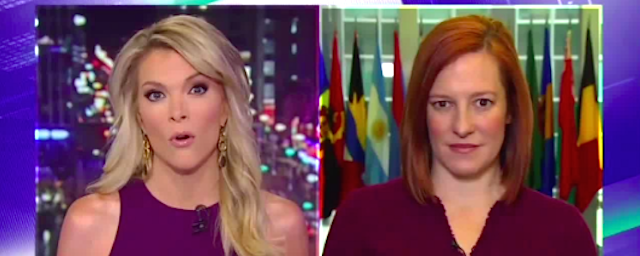 In the aftermath of the U.S. army charging Sgt. Bowe Bergdahl with desertion, Megyn Kelly faced off with State Department spokesperson Jen Psaki Wednesday night. The Fox News host wanted to know if the Obama Administration still thinks Bergdahl served with "honor and distinction" as National Security Adviser Susan Rice said after his freedom was traded for the release of five Taliban detainees last spring.
"Was it worth it?" Kelly asked Psaki.
After explaining that the U.S. military are the ones handling this case, not the State Department, Psaki answered from her perspective. "Was it worth it? Absolutely," she said. "We have a commitment to our men and women serving in our military, defending our national security every day that we're going to do everything to bring them home if we can and that's what we did in this case."
Later, Kelly asked, "Did the president know, when he struck this deal, did he know Bowe Bergdahl was a potential deserter? Why did he have the big ceremony in the Rose Garden? Why was there so much pomp and circumstance trying to celebrate this man when at the minimum he was a very controversial figure?"
Psaki said that the administration did not want to "pre-judge" Bergdahl at that time and are reserving judgement today pending his military trial. As for Rice's comments about serving with "honor and distinction," Psaki would not denounce those statements and said she would have to wait and see what the military justice system concludes in the end.
Watch video below, via Fox News:
[Photo via screengrab]
— —
>> Follow Matt Wilstein (@TheMattWilstein) on Twitter
Have a tip we should know? [email protected]