Kelly Grills Rand Paul on 'Thin-Skinned' Charge, But Tells Chuck Todd to 'Butt Out'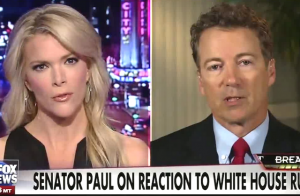 Senator Rand Paul has had some now-infamous interviews with women, shushing one and getting really testy with the other. The latter, Savannah Guthrie, upset Paul because, as he put it, she was "editorializing" his views. Her colleagues defended her, with Chuck Todd observing his supposed "habit" of getting too testy with women.
Megyn Kelly spoke with Paul tonight and pressed him on those interviews; not because of the sexism issue––she considered that a ridiculous argument––but because of how quickly Paul lost his cool both times.
Kelly told Paul that Guthrie isn't exactly known for "aggressive unfairness," but Paul insisted again that "the question was unfair" and he would rather have a good, substantive interview instead of one full of "gotcha" questions. Kelly shot back that interviewers only get a few minutes with presidential candidates and "there's not a lot of time for niceties."
She brought up people raising concerns about whether he's "ready for primetime" because of how "overly emotional" and "thin-skinned" he comes across as. And that's a problem, Kelly pointed out, if he doesn't relax by the time presidential debate season comes around, because that's when he'll get pounded.
Paul just told her that he simply won't "roll over and take it" and when an interviewer is "mischaracterizing" his position, he won't let them just keep doing so.
As for Todd, however, Kelly told him "we don't need your help" and said he can just "butt out."
Watch the video below, via Fox News:
[image via screengrab]
— —
Follow Josh Feldman on Twitter: @feldmaniac
Have a tip we should know? tips@mediaite.com
Josh Feldman - Senior Editor