Megyn Kelly Guests Slam Obama For Giving Speech To Planned Parenthood In Wake Of Gosnell Trial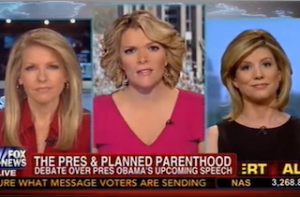 Megyn Kelly and her two guests dished out some serious criticism of President Obama's upcoming keynote address at Planned Parenthood's gala this afternoon on Fox News. Kelly opened the segment by questioning Obama's decision to speak at the event "just as the group comes under fire for reportedly knowing about some of the horror stories" from the Kermit Gosnell clinic "but not doing more with that information."
Kelly also played video of a Planned Parenthood lobbyist, who, during recent testimony in Florida gave vague answers about how the organization believes doctors should handle babies born after botched abortions. Planned Parenthood later released a statement saying "of course" they would "provide appropriate care to both the woman and the infant."
Kirsten Powers, who has been a leading critic of the media's lack of coverage on the Gosnell trial, agreed with Kelly that this wasn't the best timing for President Obama to be delivering the keynote address at a Planned Parenthood event. While she did give the organization credit for clarifying their stance on the issue with its statement, she questioned why they were opposing Florida's "Infant Born Alive Act" in the first place.
Monica Crowley went even further, accusing Planned Parenthood of using "self-serving language now to justify their appalling inaction" in the past on the Gosnell clinic. Shifting attention to Obama, Crowley said "it's no mystery why the president is speaking at this fundraising gala." She added, "this is a man who has consistently supported this kind of thing," referring to votes Obama made while in the Illinois State Senate against the "Born-Alive Infants Protection Act," which would have prevented abortion doctors from completing their procedures if fetuses were "born alive."
Ultimately all three women appeared to be very critical of President Obama's decision to speak at the Planned Parenthood event, originally scheduled for Thursday of this week, but moved to Friday so that the president can attend a memorial service for victims of the West Texas fertilizer plant explosion.
Obama has so far declined to comment on the Gosnell trial, but whatever he chooses to say in his keynote speech will likely capture the attention of those on either side of the abortion issue.
Watch video below, via Fox News:
—
>> Follow Matt Wilstein (@TheMattWilstein) on Twitter
Have a tip we should know? tips@mediaite.com