Megyn Kelly Guests Take On Whether Boston Investigations Will 'Go The Way Of Benghazi'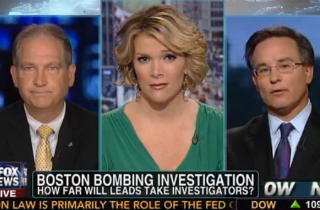 Will the investigations of the Boston Marathon bombing "go the way of Benghazi"? That's the question put forth by a syndicated columnist, and one that was examined by Megyn Kelly's political panel on today's edition of America Live.
Conservative author Debra Saunders asked in her column, "Will Boston Probe Falter Like Benghazi?," whether the administration's handling of the post-Boston investigations will be "bungled" like ones that followed September's attacks on the U.S. consulate in Benghazi.
On Fox, former Bush assistant Brad Blakeman noted that citizens were easily able to assist law enforcement with the investigations following the Boston attacks; whereas in Benghazi, he alleged that the federal government got in the way of its own probing, leaving the case open to this date.
He implied that the Boston suspect search went so swimmingly because the American people were able to help the investigation along, while Benghazi was left up to an administration that felt "terrorism was waning" and didn't see the attacks as matching their rhetoric.
Kelly then took the opportunity to ask former Clinton aide Simon Rosenberg where exactly the "justice" promised by President Obama following Benghazi attacks has gone. "When these types of attacks happen overseas," he said, "these things are hard." He cited the fact that it took a decade to capture the mastermind behind the 9/11 attacks, and then asserted, "To argue that this administration just isn't trying is ridiculous."
Blakeman shot back with a reiteration of his claims that the Obama administration doesn't care as much about the Benghazi attacks because "it doesn't match their rhetoric" about overseas terror. He then accused the government of "dropping the ball" in the lead-up to the Boston attacks — specifically for not acting upon warnings about the elder Tsarnaev brother's radicalization.
Watch below, via Fox:
— —
>> Follow Andrew Kirell (@AndrewKirell) on Twitter
Have a tip we should know? tips@mediaite.com