Megyn Kelly Hosts Fiery Debate Over Paul Krugman's 'Years Of Shame' 9/11 Column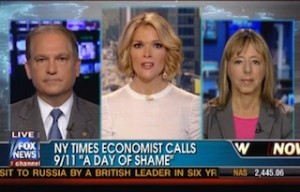 NY Times columnist Paul Krugman observed 9/11 this weekend with a provocative blog post entitled "Years of Shame." In it he calls out "Fake heroes like Bernie Kerik, Rudy Giuliani, and, yes, George W. Bush raced to cash in on the horror," of that day and suggests that the memory of 9/11 has been primarily used as a "wedge issue" for political gain. Fox News anchor Megyn Kelly hosted a heated debate on this column between former Bush administration official Brad Blakeman and Code Pink founder Medea Benjamin.
The allegations in the blog post published by Krugman were predictably found to be so offensive by Blakeman that he almost immediately called for the NY Times columnist to be fired. "There is a big difference between telling the truth and getting paid for it and telling lies and getting paid for it," said Blakeman, suggesting that Krugman is being duplicitous in this provocative post. Kelly then asked Benjamin why Krugman would bring up such a sore subject on the 10-year anniversary of 9/11 to which she pointed out that the controversial NY Times columnist should be lauded for starting a dialog and making a "courageous statement."
As often is the case in these sorts of televised shouting matches, there is no actual winner. However, it is an interesting bit of social anthropology to bear firsthand witness of the very divided debate over 9/11, public grieving and what many see as a failed foreign policy (followed by both parties) that followed 9/11.
Watch the segment below, courtesy of Fox News:
Have a tip we should know? tips@mediaite.com
Colby Hall - Founding Editor