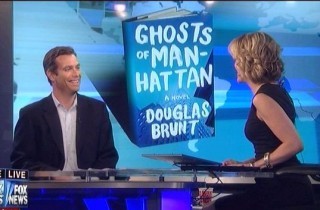 On America Live this afternoon, host Megyn Kelly interviewed her own husband Douglas Brunt about his new Wall Street fiction novel Ghosts of Manhattan.
Brunt — a former Wall Street worker — explained to his wife that the book is based on the real-life trader lifestyle that relies heavily on nightlife and excess as means to getting an edge and developing a relationship with clients. Brunt writes about his characters engaging in debauchery, doing drugs and cavorting with strippers or high-end prostitutes.
"How do we know these people?" Kelly jokingly interrogated Brunt. "Are these people we know? Have they been to our house?"
"Everything's one degree removed from us," he assured his wife.
Kelly also teased her husband about another unseemly aspect of the novel: "There is something else in the book that people need to know about, and that is a naughty blonde reporter. We need to get this on the record right now: This person bears no relation to anyone you may know."
"No, none," Brunt replied.
"Right. And you made her a CNBC person, so it's not even a Fox Business person or a Fox News Channel person. It's all fictional."
"Financial correspondent, totally unrelated," he told her.
The two then discussed how the novel's main character seeks to "save his soul" as he grows weary of the Wall Street lifestyle, mirroring his own experience leaving the industry to write this novel.
"He wrote this book on our dining room table and most of it while we were on maternity leave from our first child," Kelly explained to her audience. "There is a lot of blood, sweat and tears in the spirit you wrote it out longhand in legal pads. And I had the first read, which was terrifying, because I had no idea that he could write."
The segment ended with Kelly praising Brunt's book and reminding him how proud she is; and that she loves him.
Watch below, via Fox News:
Have a tip we should know? tips@mediaite.com