Megyn Kelly Is Fired Up Over Obama's Praise For Michael Vick's 'Second Chance'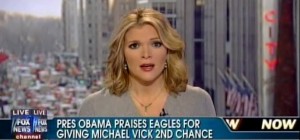 President Obama's praise for convicted dog-murderer Michael Vick receiving a second chance really fired up Megyn Kelly earlier today on Fox News. In a debate with Bernadette Pauley, animal rights activist and Dr. R.L. White, President of the NAACP in Atlanta (where Vick previously played football), Kelly wondered whether this was an overblown story or whether the President truly was wrong for picking Vick's second chance as worthy of praise.
To Kelly's credit, she gave voice to both sides of the issue, however, her passion was demonstrably in favor of thinking Vick should never again be in the position to warrant any praise from the President's large megaphone. Describing every despicable act Vick committed, Kelly sternly said his "torture and murder of dogs, including electrocuting them, drowning them, hanging them, and in at least one case, brutally beating them" should have been enough to suggest to Obama he find someone else to praise for receiving a second chance.
White thought that since Vick already served his punishment for the crime, ultimately there was nothing wrong with praising someone's opportunity for redemption. Pauley however bemoaned the fact that "sports stars and celebrities can get away with anything and they're always going to be glorified no matter what type of human beings they are."
Kelly summed up her disgust with Vick's "systematic torture" of dogs and wondered if the same criminal treated humans this way whether that eventually redeemed criminal would ever be worthy of the President praising their second chance?
Watch the clip from Fox News below:

Have a tip we should know? tips@mediaite.com