Megyn Kelly: 'Is Gov. Rick Perry Dumb?' Michelle Malkin: 'Compared To What?'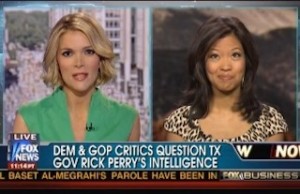 Politico published an article today that openly questioned whether or not Texas Governor Rick Perry was an intellectual light weight, or pointedly, is he dumb? Megyn Kelly followed up on this report today, asking conservative news analyst Michelle Malkin whether or not it was a fair critique of the GOP front runner. In response, Malkin damned Perry somewhat with a faint defense, predictably calling it a left-wing media smear, then following up by saying "compared to what?!"
The Politico piece in question was penned by Jonathan Martin, and cites a number of unidentified sources who describe Perry's intellect in an unfavorably dim light:
Doubts about Perry's intellect have hounded him since he was first elected as a state legislator nearly three decades ago. In Austin, he's been derided as a right-place, right-time pol who looks the part but isn't so deep — "Gov. Goodhair." Now, with the chatter picking back up among his enemies and taking flight in elite Republican circles, the rap threatens to follow him to the national stage.

"He's like Bush only without the brains," cracked one former Republican governor who knows Perry, repeating a joke that has made the rounds.
Since Perry appears to be way ahead of his competitors in the polls, it stands to reason that his record and background would come under much finer scrutiny. Malkin, however, sees this treatment as unfair. Where was the scrutiny of Barack Obama's college transcript, she asks breathlessly, a sore subject for many right-of-center political pundits who have made this repeated complaint.
But it's worth nothing that Malkin never directly counters the notion that Gov. Perry is a relative dimwit. Her response says more about her thoughts on her political rivals and the overall process in a classic gambit known as "best defense is a good offense." Or in other words, it certainly seems like Malkin considers Perry just as dopey as most other elected officials.
Watch the oddly entertaining segment below:
Have a tip we should know? tips@mediaite.com