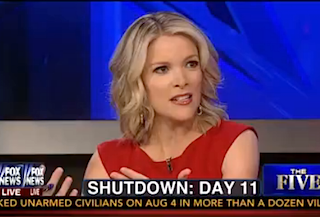 After starting the week with the hosts of The Five on her new show The Kelly File, Megyn Kelly returned the favor Friday afternoon by sitting down on that show to talk about her first week on the air in primetime and some of the stories that are dominating the news this week. Quickly, Kelly found herself in a bit of a heated back and forth with The Five's Bob Beckel over the increasing popularity of the Affordable Care Act and the role of Sen. Ted Cruz (R-TX) in the Republican Party.
Kelly said, unsurprisingly, that most of her viewers are "applauding Senator Cruz for standing on principle" when it comes to Obamacare. Despite the fact that the government shutdown "isn't working out that well for the Republicans," Kelly said, "Senator Cruz and others like him were sent to the Congress to do exactly what he's doing. To stand on principle, to buck the establishment, to stand against Obamacare."
Unlike many other conservatives, Kelly did admit that the law "is going to help people who don't have health care" but added, "the question is whether it's going to help people who already do have health care."
Beckel took umbrage at Kelly's statement that the Affordable Care Act has never been popular and was "rammed down the throats" of the American people. He pointed out that since Cruz took his "stand" against Obamacare, the law's popularity has actually increased with the public. "Now, why is that?" he asked. "Two reasons. One, I don't think they knew anything about it before. They got a little bit of an education. Secondly, the idea of using something like that as a political ploy, as the tea party people have done, is just not acceptable."
"Is it a political ploy or is it they really hate it and they want it gone?" Kelly countered.
Beckel admitted that many "small government conservatives" may want Obamacare gone, but asked, "is it worth shutting down the whole government and putting the whole faith and credibility of the United States on the line?" He said anyone who thinks that is an "absolute wingnut."
Going back the question of Cruz, Kelly marveled that her first question for him when he was a guest on her show Monday–"What's it like to be the most hated man in America?"–was taken by some as a jab at the senator. "In the mainstream media, that got picked up like nothing else," she said. "Like, you know, 'She must hate him, look what she said to him.' It's been really interesting to me how people who have their own agenda want to spin."
Watch video below, via Fox News:
[photo via screengrab]
— —
>> Follow Matt Wilstein (@TheMattWilstein) on Twitter
Have a tip we should know? tips@mediaite.com