Megyn Kelly And Panel Go After Obama 'Casting Call,' Back Stage Editor Sets Record Straight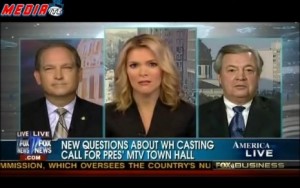 Fox News' Megyn Kelly, along with a panel that included pop-culture-savvy former SC Democratic Party Chair Dick Harpootlian, weighed in on the "controversy" surrounding a "casting call" for a joint MTV/BET/CMT town hall event. While there's undeniable entertainment value in watching Kelly rib Harpootlian's Krakauer-esque knowledge of the Jersey Shore cast, and her shocked reaction to the "s-word" (skank), the real treat here is how badly they all bungle a central fact in this story. To her fair-and-balanced credit, however, Megyn does reference the other recent casting "controversy" that involves Republicans.
Update: Back Stage National Casting Editor Luke Crowe provides additional information in a statement to Mediaite

Here's the clip, in which all three make repeated references to the use of a casting agency in seeking audience members on Backstage.com:
Back Stage is the trade paper for aspiring actors in New York, and it would be disturbing, indeed, if MTV sought to pack the audience with thespians, adding a turbo boost of artifice to an already-stagey political process. The problem is that neither MTV, nor any casting or talent agency, placed that notice. A source at the paper tells Mediaite that the editorial staff frequently seeks out opportunities for Backstage readers to log some screen time, and posts the notices themselves. In this case, the source for the "casting call" was a notice on MTV's website.
Kelly and her panel also give the impression that the audience is to be culled exclusively from Backstage applicants, when in reality, the same submission request was included in the event's press release,invitations to colleges, and on the network websites. Last week, we reported the same omission in a National Review Online article on the same subject.
On a less serious note, Harpootlian takes some damage to his pop-culture street cred when he attributes the shows Flavor of Love and Rock of Love to MTV. Both programs aired on VH1. Cue Media Matters.
Update: Back Stage National Casting Editor Luke Crowe provides additional information in a statement to Mediaite: (via email)
We publish upwards of 20,000 casting notices every year, but I don't recall any of our articles ever receiving this much individual media attention. So I was stunned when we started to see a huge surge in traffic because of all the sites writing about this casting call. When the "Obama Town Hall" info first crossed my desk, I thought it was a unique opportunity. It seemed like a clever way to engage people in politics, and an interesting way for people to get seen on a major cable TV network. But I certainly didn't think it was controversial, and would never have expected the attention it's receiving.

I should note that although Back Stage reports on all sorts of casting and performance opportunities – the full gamut of the entertainment industry, from theater, film, TV, commercials, infomercials, music videos, and PSAs to reality TV series, game shows, talk shows, talent shows, comedy clubs, etc. – we rarely report on casting calls for audience members, political or apolitical. Because being an audience member doesn't usually involve real "casting," it's filling a seat; it's about being entertained instead of being on-air talent. But the "Obama Town Hall" casting call seemed like more than just a standard call for audience members – it's a chance to possibly interact with the President on MTV.

I think it's very cool that MTV opened up this opportunity to the general public via their casting call, instead of quietly selecting participants behind closed doors. It'd be great to see more stuff like this from politicians of all stripes. Back Stage is happy to publish casting notices for political commercials and media events for any respectable political party.

Here's a link to the full casting notice.

Please note that this casting notice was written by a Back Stage Casting Department editor, using our traditional three-paragraph article-style format to summarize the casting details that were available to us at the time of publication. This casting notice is an article, not an advertisement. It was not paid for or reviewed by MTV or the White House. It's simply a write-up of the casting information we had available, and it may be updated later if more relevant details emerge.
Have a tip we should know? tips@mediaite.com