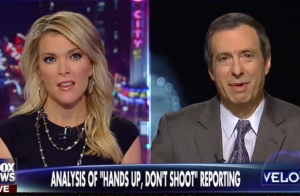 On Monday's Kelly File, Megyn Kelly continued to go after those who refuse to admit that they were wrong about the "hands up, don't shoot" narrative surrounding Michael Brown's death in Ferguson, Missouri. This time, she went after news organizations for refusing to correct the record, in a discussion with Howard Kurtz.
Immediately after the Department of Justice report was released, Kelly went off on those who continued to say Brown had his hands up during his confrontation with former Ferguson police officer Darren Wilson. She also blasted the media for not focusing on the manhunt for those who shot two Ferguson police officers during a protest.
Kelly and Kurtz argued the media painted people who questioned the story or didn't "rush to judgment" with the "media mob" as "racially insensitive" and apologists for the police. Kelly previously defended Washington Post liberal columnist Jonathan Capehart for admitting he was wrong about "hands up, don't shoot." Kurtz said it was "the cool thing to do" for the media to "rush to judgment" on what really happened.
Kelly said Darren Wilson is the "real victim" because he is out of a job while the main witness, Dorian Johnson, who the Department of Justice said gave untruthful testimony, is now employed by the city of Ferguson. They both ultimately concluded that the mainstream media will never credit Fox News with getting the story right form the beginning.
Watch the video below, via Fox News:
[Image via screengrab]
— —
>>Follow Andrew Desiderio (@forza_desiderio) on Twitter
Have a tip we should know? tips@mediaite.com