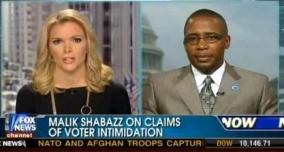 FNC's Megyn Kelly spoke to New Black Panther Party Chairman Malik Zulu Shabazz today in a lengthy, two-part interview that featured moments of tension, a lot of broad questions and very few specific answers.
Kelly has been driving the DOJ/Black Panthers story for a couple weeks, and this was the first showdown with a representative of the organization.
During Tommy Christopher's exclusive interview with Shabazz earlier in the week, Shabazz expressed doubts over whether he'd be a guest on any show because of, maybe, a "Zionist conspiracy."
The first part of the interview dealt mostly with the DOJ case and why it was dropped. This transitioned to Kelly's questions about Shabazz's 2008 election directives. "Didn't you order them to go, saying, they needed 'to stop angry whites' and use 'all means at your disposal'?" she asked.
Without saying yes or no, Shabazz gave his reason for, what sounded like, doing just that. But when Kelly asked again, he said, "No, ma'am you're mischaracterizing what I said."
Then it came time for the whole general 'are you racist' discussion. First, Shabazz talked about the conspiracy he's up against:
All of this, to me ma'am, is being over-hyped and overblown and is part of a right-wing Republican conspiracy to demonize Pres. Obama, his administration, to demonize the New Black Panther Party and blacks, in order to drum up white dissatisfied support for the midterm elections. I see the strategy behind Attorney Adams, behind Glenn Beck behind Sean Hannity…
Kelly asked Shabazz, "Do you hate white people?" No. "Have you ever referred to a white person as a cracker?" "It's possible," said Shabazz. "Do you hate Jews?" No. "Have you ever referred to Jews as something other than Jews?" "Not the real Jews, no ma'am," said Shabazz.
There's a lot of that. But if there's anything we can say was learned from this interview, it's that Shabazz said he doesn't think the New Black Panther Party will be showing up at the polls in 2010 or 2012.
Here's the full interview:


Also, we got a shout-out today from Kelly for Chistopher's question at about the DOJ case earlier this week:

—–
» Follow Steve Krakauer on Twitter
Have a tip we should know? tips@mediaite.com