Megyn Kelly Offered Brian Williams a Platform for Mea Culpa — Should He Accept?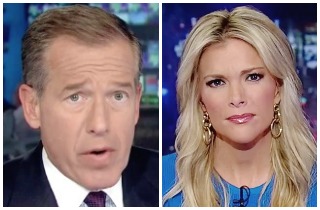 Brian Williams has officially been suspended from NBC News for six months without pay. So unless something happens and Williams is just phased out altogether, he will return to NBC Nightly News in August. And, at some point in the interim, he will need to appear on another platform to face tough questions and further address his repeated misstatements. Some options have been thrown out there, like going on The Today Show or talking with Jon Stewart.
Last night Fox's Megyn Kelly made that offer to Williams. She said she would be tough but fair with Williams, and would give him a chance to fully explain himself.
And, well, maybe Williams should take her up on that offer.
For starters, doing the interview on NBC would be a conflict of interest, and going on ABC and CBS is out, those are direct competitors.
Secondly, Kelly's reaction to the news of Williams' suspension tonight was very fair. She called Williams a good person who made a big mistake. She said, "Americans love to tear down the mighty, but they also believe in second chances. They are, in most cases, forgiving."
Kelly spoke of the significance of the role newspeople have to the consumers, and believed Williams would fight to come back to his job. So if Williams went on The Kelly File, he would face both a tough and sympathetic interviewer.
And Kelly's proven to do good, tough interviews before, including her infamous grilling of Vice President Dick Cheney last year.
It might not seem like the most conventional choice (nor necessarily the friendliest) for Williams, but it's definitely an option worth considering. Veteran journalist Jeff Greenfield threw out Kelly's name in a list of "smart, tough but fair inquisitor[s]" who could sit down with Williams.
You can watch her offer from last night here, via Fox News:
And you can watch how Kelly covered Williams' suspension tonight, also via Fox:
[image via screengrab]
— —
Follow Josh Feldman on Twitter: @feldmaniac
Have a tip we should know? tips@mediaite.com
Josh Feldman - Senior Editor