Megyn Kelly on Bill O'Reilly's Response to Her Book: 'Some Men Have Had a Very Different Reaction'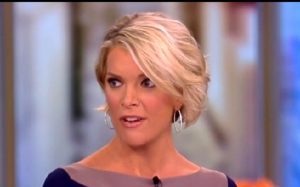 During an appearance on The View today, Fox News host Megyn Kelly discussed her new book Settle for More and the revelations that she was sexually harassed by former Fox News chief Roger Ailes.
The conversation soon veered to her colleague Bill O'Reilly, who has criticized her speaking out against her employer, devoting a segment on his show on loyalty and telling other programs that he isn't interested in making his "network look bad." Meanwhile, Kelly has thrown some shade of her own towards O'Reilly.
Co-host Joy Behar asked Kelly about her feud with O'Reilly over the book and her accusations against Ailes. Behar wanted to know if O'Reilly saw the irony in his criticisms of Kelly considering he had been accused of sexual harassment himself.
"I don't know the answer to that," Kelly responded. "But I'll say this. I didn't have to put that chapter in the book, like I said. But I had to talk about it with Rupert Murdoch and Lachlan Murdoch, who are the owners of the Fox News Channel — running the company now, and they both thought it was important to include too."
After saying women need to talk about these things openly because it is happening, she addressed O'Reilly again.
"As far as Bill goes, I think there are some interesting back stories in the book about my time at Fox News," Kelly explained.
She continued, "I love my colleagues and Bill said something on the air that is true. It's a great place to work. And it's full of really hard workers and I love them and I've been with them for 12 years. But I do think that some people — in particular some men — have had a very different reaction to the outing of this story than some women in particular."
Kelly finished by telling people to be more open-minded and realize the message they're sending to young women.
Watch the clip above, via ABC.
[image via screengrab]
–
Follow Justin Baragona on Twitter: @justinbaragona
Have a tip we should know? tips@mediaite.com