Megyn Kelly On Kagan: If You Grow Up On The UWS Of Manhattan You Are A Liberal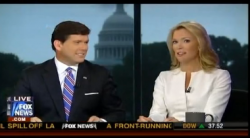 Elena Kagan took her place on the hot seat today for the beginning of the confirmation hearings that will decide if she becomes the newest member of the Supreme Court. But Fox News host Megyn Kelly doesn't need to wait for the results of the Senate Judiciary Committee's round of harsh questioning to decide if she will be a liberal Justice – Kagan's childhood zip code is evidence enough.
Kelly told viewers today that while strolling through Manhattan's Upper West Side, "the area from which Kagan hails," Kelly she had pondered aloud to her husband:
"'Do you think it's true what they say, that this is the liberal center of New York City? Of one of the most liberal cities, this is the center of it?' And at that moment, a woman walked by us with a t-shirt that read 'Kill Cheney First.'"
Never has a novelty t-shirt had such perfect timing, pinning Kagan and all Upper West Siders with the liberal label through guilt by association.
Although, one has to wonder if Kelly would have a different idea of which New York neighborhood is the most liberal if she had extended her expedition further south this weekend. What if, instead of a woman in a slogan shirt on the Upper West Side, a rainbow-coated man in leather chaps shimmied by during the Pride Parade in the West Village? Chances are she would think differently.
Watch her recount the findings of her field research below.
Have a tip we should know? tips@mediaite.com