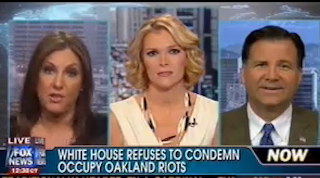 On Fox News' America Live, Megyn Kelly hosted a spirited debate on whether President Obama should condemn the actions of Occupy Oakland, who were photographed burning the American flag; one panelist accused President Obama of not commenting because he listened to Reverend Wright for so long.
Syndicated radio host Lars Larson lambasted President Obama's press secretary for not speaking out against the burning of the American flag.
Commentator Leslie Marshall strongly disagreed, saying to do so with infringe upon the demonstrator's freedom of speech. "I personally would never burn the American flag but it is an American's right to do whether they are an Occupy Wall Street protester or not. That's clearly in the constitution."
RELATED: Rep. Michele Bachmann Regrets Saying Obama Has 'Anti-American Views'
"It's a right, but should the president be staying neutral on it?" Kelly asked Marshall.
"I don't think the president should comment on the burning of the American flag," Marshall replied.
"You've gotta be kidding me, Leslie!" Larson exclaimed.
"Why should the president comment on the burning of the American flag?" Marshall questioned. "If it weren't Occupy Wall Street, you won't even care."
"I'll tell you why," Larson shot back. "Burning the American flag is wrong…Given the president's background, and the church he went to in Chicago, I'm not surprised he doesn't speak out against burning the American flag. In his heart of hearts what do you think he believes having listened to Reverend Wright for 20 years. The guy sat there and listened to an anti-American."
"Really?!" Kelly asked incredulously. "He hates America? He wants to burn American flags?!"
Marshall was so shocked by Larson's comments she told him to "get off the grassy knoll."
Watch the heated debate below via Fox News:

Have a tip we should know? tips@mediaite.com