Megyn Kelly Panel Battles Over Whether Planned Parenthood's Commitment To Cancer Is A 'Hoax'
Fox Panel Battles: Is Planned Parenthood's Commitment To Cancer A 'Hoax'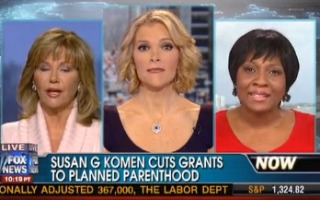 On Thursday's America Live, host Megyn Kelly invited Sandy Rios vice-president of Family-Pac Federal, and Jehmu Greene, formerly of the Women's Media Center, to discuss the ongoing controversy surrounding the Susan G. Komen's foundation's new approach regarding funding — an approach that has directly impacted the funding it has provided to Planned Parenthood, despite Susan G. Komen's founder Nancy Brinker's insistence today that the group is not "de-funding" Planned Parenthood and that its decision — despite what people think — is not politically motivated.
RELATED: Susan G. Komen Founder Tells Shocked And 'Anger'(ed) Andrea Mitchell, They Didn't De-Fund Planned Parenthood
Rios felt that the decision to pull funding from Planned Parenthood is a "fabulous" one:
It doesn't make any sense at all for an organization that's dedicated to saving women's lives to give so much money to an organization that takes the lives of so many little tiny women. Because that's what Planned Parenthood does; it's an abortion provider. They're the largest abortion provider in the nation. They do nothing to prevent breast cancer. They don't even do mammograms.
Greene and Kelly responded by noting that, contrary to what Rios had stated, Planned Parenthood does indeed offer breast cancer screenings in the form of palpation exams in addition to providing guidance for treatment. "At the end of the day," Greene added, "cancer doesn't care about politics."
Rios took issue with Greene for having shared the story of her own mother's battle with cancer, as if those "millions of us who believe that life is precious" have not known people who have been afflicted with the disease. Furthermore, she added, Planned Parenthood's commitment to screening for cancer is a "hoax" and a "scam," as its main mission, she said, is to provide abortions.
As the two began to debate more heatedly, Kelly struggled to break through and continue the story, eventually ending the segment over the two's continued arguing.
Do have a look, via Fox News:
Have a tip we should know? [email protected]