Megyn Kelly Panel Battles Over Whether Obama Has Americans' Actual Priorities In Mind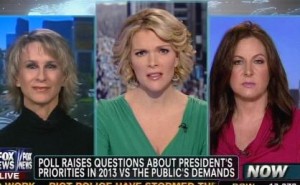 Fox News Channel's Megyn Kelly hosted a panel debate on Friday over a poll that showed the American people are far more concerned with pocketbook issues than they are with controversial measures like gun control and combating global warming. Kelly's guests clashed over the president's priorities, with her liberal guest asserting that accelerating the economic recovery is largely Congress' responsibility. "The president's not their baby sitter. He's not running a daycare center," the guest said.

RELATED: NMegyn Kelly Panel Clashes Over Obama's 'Divide And Conquer' Strategy: Is GOP Destroying Itself?
Kelly opened the segment by citing polling data that shows more than two thirds of Americans want lawmakers to tackle the economy, unemployment, and the budget deficit in Obama's second term above all else.
Kelly asked her panel guests if they thought President Barack Obama "had his eye on the ball." One guest immediately replied that she thought he did not.
"Building bridges and roads and things like that, that's really not going to improve the economy, and that's pretty much all he said about it in his speech," said conservative radio host Heidi Harris. "His vision of America, we on the right believe, is very different from the vision our founders had."
Kelly noted that the president defended entitlement spending when he brought up the sluggish economic recovery in his second inaugural address.
Liberal radio host Leslie Marshall said that the president, just like all other presidents, have to juggle a lot of priorities. She countered by saying that 52 percent of the American people want some kind of gun control, and the chief executive's number one priority should be keeping the American public safe.
"The president is not going to ignore job creation, but we need to be realistic," Marshall said. "The president says – Heidi you talk about infrastructure – that does help the economy. That does create jobs."
She said that global warming is also a priority, evidenced by the ongoing disaster left behind in the wake of Superstorm Sandy. Harris countered that North Easterners are dealing with record cold temperatures at the moment and are not concerned about global warming.
Kelly again cited the poll that showed the priorities listed by Marshall are at the bottom of Americans' list of priorities. "Where is the leadership on the deficit, Leslie?" Kelly asked.
"Part of the problem is we have a divided Congress," Marshall replied. "I think everyone is very clear with where the president stands as to what his ideas and the Democratic philosophy is with regard to job creation and what we need to do with the economy."
"Congress needs to sit down and work this out," Marshall added.
Watch the segment below via Fox News Channel:
> >Follow Noah Rothman (@NoahCRothman) on Twitter
Have a tip we should know? tips@mediaite.com