Megyn Kelly Panel Battles Over Whether Obama 'Using Children As Props' For Gun Control Announcement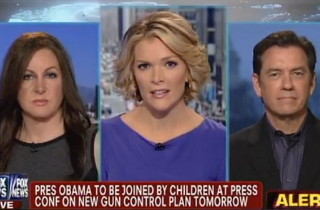 After it was revealed that tomorrow's announcement on gun control will feature children standing beside the president, Fox News' America Live panel debated whether those kids are being used "as props" to help the White House advance its desired policies.
Conservative radio host Chris Plante kicked off the debate by lamenting that this sort of move "has become de rigueur in American politics, but it's clinical, it is shameless, it is the use of children as props to advance an agenda that existed long before the Sandy Hook tragedy."
He continued to tear into the idea: "[The children] will be stacked according to skin color and ethnicity to frame the president's face because it's essentially part of the propaganda package as they present their bill of goods that will not solve the problem that we're attempting to solve," he said.
Host Megyn Kelly then brought up the fact that the children wrote to the president and were given permission by their parents to appear at the event, but asked if Obama was trying to "guilt the opposition."
Liberal contributor Leslie Marshall responded that "I don't think he's trying to guilt anybody," and that having children stand with the president is unlikely to sway minds on an issue so divisive as gun control. However, she cited the fact that previous presidents, left and right, have used children for major bill signings, including the Americans with Disabilities Act and Megan's Law.
Kelly then challenged Plante to consider whether he'd be as outraged "if a Republican president came out and pushed an anti-abortion bill and had a bunch of children standing behind him."
"Yeah, surrounded by infants, by preemies, when speaking against abortion," Plante snarked. This is just how cynical things have gotten in this town, quite honestly. It's purely for the imagery, which they recognize is probably more important than what's in the legislation."
Kelly then asked Plante whether he'd be more open to the president's announcement if it included, in addition to some gun control measures, planned steps for "looking at" how the mental health care system and violent video games have contributed to a violent culture.
"There are cultural factors that most of us would acknowledge and accept also contribute to the state of affairs in the United States when it comes to young people and their willingness to kill a whole bunch of people," Plante replied, before pointing the finger at "Hollywood movies" which he believes contributes to our culture "treat[ing] human life in a trivial fashion in a panoply of ways." However, he said, "I don't see the president pushing back against Hollywood or video game makers."
He then went after the "macro-cynicism" of the Obama camp for essentially proposing stricter gun control laws "they wanted to propose before Sandy Hook and getting it through, essentially, on the backs of the tragedy and then using children as props to back up their essentially phony arguments that this is going to reduce the likelihood that something like this is going to happen again in the future."
Watch below, via Fox:
— —
>> Follow Andrew Kirell (@AndrewKirell) on Twitter
Have a tip we should know? tips@mediaite.com