Megyn Kelly Panel Clashes Over Obama's 'Divide And Conquer' Strategy: Is GOP Destroying Itself?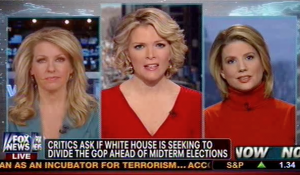 On Wednesday afternoon, Megyn Kelly invited Kirsten Powers and Monica Crowley to discuss whether President Obama's strategy is to "divide and conquer" Republicans. While both agreed that the GOP needs to refocus and reorganize, Powers contended that Obama can largely allow the party to divide and destroy themselves.
Powers wasn't entirely on board with that narrative, remarking that "Republicans, frankly, are doing a really good job of destroying themselves — and Obama doesn't have to do much." That said, he probably does realize that it's "in his interest to divide them as much as he can." But that's not exactly unusual or a secret.
There's nothing wrong with it, and, in fact, it's what our political system is based on, Crowley contended. The problem, she said, is that Obama tends to talk about reaching across the aisle, but nothing suggests he wants to do that. "This is politics, you don't expect anything other than the president, head of his own party," she said, "but it's not enough to defeat the Republicans, he wants to demolish them, he wants to smash them."
Looking at the GOP more broadly, Powers said the question is whether they can be a strong national party — because, as it is now, "they're completely out of touch with reality." They're not in step with the rest of the country, they're disorganized, and "they're destroying themselves."
On one aspect, Crowley agreed: the party "needs to refocus on its core principles of limited government and fiscal responsibility, economic freedom, individual liberty, strong national defense." That's where "most of the American people are."
Take a look, via Fox News:

Have a tip we should know? tips@mediaite.com