Megyn Kelly Panel Clashes Over Obama's 'Julia' Campaign: 'It's A Trap Republicans Are Easily Falling Into'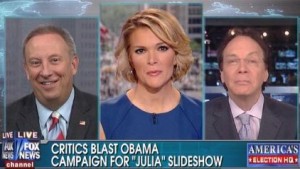 Conservative radio host Mike Gallagher and Fox News contributor Alan Colmes appeared on America Live with Megyn Kelly on Friday to discuss a conservative groups counterargument to the Obama campaign's latest online ad, "The Life of Julia." The exchange became heated when Gallagher accused Democrats of "bragging" about a fictional woman dependent on government assistance and Colmes countered that Republicans had fallen into a trap and are endorsing the destruction of the social safety net.

RELATED: Hannity Destroys Occupy Organizer In Fiery Segment About Movement's Violence
"I wonder if Julia might be the President's composite girlfriend," said Gallagher when asked for his thoughts on the Julia campaign. "There are two takeaways from this ridiculousness. Number one, this is a perfect, quintessential example of the textbook – when we say 'cradle-to-grave' government nanny-state – this is what we mean."
Gallagher went on to say that the Obama campaign was bragging about this fictitious individual taking government assistance all of her life. "Number two, it really does indicate how desperate the Obama campaign is," said Gallagher. "They're trying to run from their record, so let's now have stories about composite women – made up, fictional women – 'my life with Julia' as somebody who is constantly dependent on a government handout in order to make it in the world."
"Does this play into a narrative that Republicans have already unleashed on the Democrats," Kelly asked Colmes.
"I think it's a trap Republicans are easily falling into," said Colmes. "They talk about the Lilly Ledbetter Act in the Julia cartoon. They talk about equal pay for women. They talk about a free public education, which has been a foundation of life in America for years."
Colmes said that many of the initiatives touted in the Julia interactive campaign ad are programs that were enacted in the 1930s or the 1960s and have been part of the fabric of American life for generations. Gallagher interjected that those programs were implemented by Democrats, to which Colmes responded emphatically, "yes. Exactly. Thank goodness."
"You want to take away people's Medicare. You want to take away Social Security. You want to take away the right to a free education," said Colmes.
Gallagher said that Colmes, and Julia's, characterization of Republican policies was inaccurate. "Julia needs a job," said Gallagher. He said that the President is in trouble and "Julia doesn't help."
Kelly ended the segment by focusing this Julia ad with the broader critique of Republican legislators waging a "war on women."
"I think Republicans are making the same mistake when they try to go after President Obama on the issue of capturing and killing Osama bin Laden," said Colmes. "Every time they bring it up, they're reminding us that in fact he's been very good on national security. Now they want to remind us that it's the Democrats and the President and the policies of Democrats that really would help most Americans."
Watch the segment below via Fox News Channel:
Have a tip we should know? tips@mediaite.com