Megyn Kelly Panel Clashes Over Suspects' Mother: 'In Denial' Or 'Spreading Anti-Americanism'?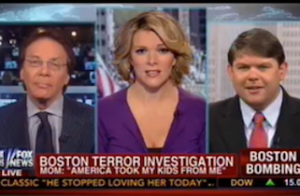 On Friday, Fox News' Megyn Kelly and her guests delved into the psychology of the Boston suspects' mother, who has spoken out about her belief that the bombings were staged and that her two sons are innocent. After showing new footage of the mother appearing to blame the U.S. for taking her sons away from her, Kelly asked, "Is she just a grieving mother? Or did she help lead her sons down this path? And is America in need of some introspection in the wake of what happened with her two sons?"
Conservative radio host Ben Ferguson took the first stab at answering those questions, saying, "I laugh at the fact that she acts as if this is America's fault." Pointing to the recent controversy over the welfare assistance the Tsarnaev family received in the U.S., Ferguson asked, "what else did she want from America after all that when her son, or sons go out and kill people?"
Without defending the mother's comments, Fox contributor Alan Colmes said he's "not going to beat up on a grieving mother." He said she appears to be in "denial" and is "not responsible" for the attacks last week.
Because the mother allegedly knew that her older son had become "radicalized" and did not warn any authorities about his intentions, Kelly posited that she was the one who led him "down the path" to terrorism. Ferguson questioned that she's actually "grieving as a mother" right now, because if she really wanted to protect her son she would have alerted authorities in order to stop him from hurting himself and others. He went on to say that he doesn't buy Colmes' theory that the mother is in "denial" but rather that she is consciously "spreading a message of being anti-America" that is being replayed "all over the world right now."
Kelly pointed out that the mother left the United States after being arrested for shoplifting from Lord & Taylor, which is ironically the same store whose video surveillance caught the bombers in action, and has a warrant out for her arrest if she does try to return to the country. Either way, Kelly said, the FBI will want to interrogate her and find out "exactly what she knew."
Watch video below, via Fox News:
—
>> Follow Matt Wilstein (@TheMattWilstein) on Twitter
Have a tip we should know? tips@mediaite.com