Megyn Kelly Panel Clashes Over Whether Obama Is Taking The Black Vote For Granted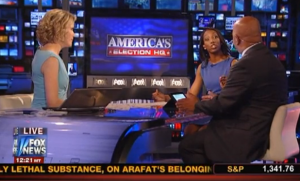 Spurred by President Barack Obama's declining an invitation to speak at the NAACP convention (where Mitt Romney, Vice President Joe Biden and Attorney General Eric Holder all speakers), Megyn Kelly invited her panel to discuss concern among some African Americans who wonder if the president is taking their vote for granted.
This is simply the political reality, David Webb argued. Obama ran "by drawing coalitions together," subsets of the population who essentially got him elected. But "unless they have a defined interest they can use, they're not that valuable," Webb said bluntly. To give him credit, he added, Obama didn't run on a black agenda.
Countering Webb, Tara Dowdell argued that it's "insulting" to suggest that blacks voted for Obama because they were vested in his color. "To say that we can't think for ourselves, that we can' discern policies — that is a very insulting statement to make," she said.
Kelly circled back to her central question: whether there's a sense that Obama's taking the black vote for granted. Webb argued it's also insulting to look at a how a group has voted historically and ask whether there's been a return on that investment. "We're all Americans, we're not black Americans, white Americans, Hispanic Americans," he said.
Finally, Kelly asked whether it's a mistake for Obama not to speak at the convention. Dowdell said it's not because he does have members of his administration speaking there — before pivoting to unemployment among blacks (defending Obama's policies), leading the segment to end with their arguing.
Take a look, courtesy of Fox News:

Have a tip we should know? tips@mediaite.com