Megyn Kelly Panel Clashes Over Whether Obama Is Trying To Demonize Small Business Success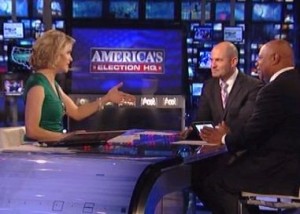 Mitt Romney has seized on a comment made by President Obama last week, when the president said, "If you've got a business, you didn't build that, somebody else made that happen." After days of Romney ripping Obama for it, Megyn Kelly noticed Romney may finally have his foothold in something to really go after the president for. She engaged with her panelists on whether Obama is trying to demonize success or get people who benefit from government services to pay a fair share for helping them get to where they are.
RELATED: Mitt Romney: 'If I Become President, I Will Stop The Attack On Americans'
Democratic analyst Christopher Hahn said Romney was blatantly "distorting" what Obama said, explaining what the president meant was that no one succeeds purely by themselves, they are helped by "an environment for success" mostly created by the government. He joked that Romney's idea of economic happiness is a huge tax deduction on dressage (a.k.a "his horse's prom").
Conservative radio host David Webb shot back by arguing that these environments are pushed along with tax dollars, and small businesses are not begot by government, but an individual coming up with a unique idea. Hahn said the government is there to provide the support for those businesses, arguing that ideas cannot be carried out if there is not a sustainable environment for them.
Kelly interjected to say Obama's argument was his way of justifying raising taxes, and used this as a way to lay out an issue with how Obama treats success and failure.
"If I take risk and take a business and it succeeds and I make over 250 or 200 [thousand], then he wants me to pay more taxes. If I take risk and build a business and it doesn't succeed, then I get to stay at the same rate. But both people, you know, both people in this hypothetical scenario used the same infrastructure, took the same risk, created the same business, but one has to pay more — why? Because he or she was successful."
Hahn argued that when people succeed, they are "benefitting more" from government services, and said having a government that provides stability for its people is what separates the United States from Uganda. Kelly clarified that she was saying both people in her example are equally benefitting from government-provided services, citing Steve Jobs as an example of such a success story.
RELATED: Mike Barnicle Asks: Are Obama's Successful Attacks On Romney 'Class Warfare'?
Webb said that Obama didn't make a gaffe with his remark, but that he truly believes in a "European socialist" system and "big centralized government." Hahn said all Obama is asking for is a three percent increase in marginal tax rates, back to what it was in the Clinton years, and called out Webb for being the latest conservative to call Obama a socialist.
Hahn tried to end the segment on a light-hearted note by yelling about Romney's "horse prom" again.
Watch the video below, courtesy of Fox News:
Have a tip we should know? tips@mediaite.com
Josh Feldman - Senior Editor