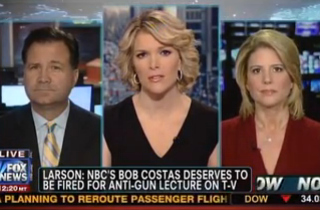 Fox's Megyn Kelly played host to a rather contentious debate between conservative Lars Larson and liberal Kirsten Powers over Bob Costas' controversial "anti-gun rant" (Kelly's words) during Sunday Night Football.
Citing a column by Jason Whitlock on Sunday evening, Costas used his halftime monologue to decry the American "gun culture" and ponder whether Kansas City Chiefs player Jovan Belcher would have killed himself and his girlfriend had he not been able to obtain a gun.
Larson began the debate by saying that "based on the standards of our industry, he deserves to be fired for those remarks." The conservative radio host blasted Costas for "suggesting 300 million Americans be stripped of a right so important that the founders of our country put it in the Constitution. He's suggesting we would all be better off if we could take that right away."
The conservative panelist also tried to call out what he believes to be a double standard: "If you said black Americans shouldn't be allowed to vote, you would be disciplined or fired tomorrow or later on this afternoon. It's an outrageous thing for to him to do…. Costas doesn't know what he's talking about."
Powers fired back:
There are so many things wrong with what he just said. He shouldn't be fired for expressing an opinion. The idea that we live in a society that we can't express an opinion because of people's sensibility? And I never heard a 'rant.' I just heard a person giving his opinion, which i think is acceptable. Bob Costas has been around a long time. He's very respected. The idea that he would be fired over expressing an opinion over a tragedy is shocking. I'm not an anti-gun person. I grew with guns. … The idea that you want reasonable limitations and controls on guns is not taking away anybody's civil rights. And he's correct if a gun hadn't been involved … the odds are higher he would be alive.
Larson pushed back on Powers by citing famous examples of media personalities being fired for expressing themselves: "Ask Don Imus about that," he said, with Kelly adding Hank Williams Jr. to the list. Imus was fired for racially-charged remarks, while Williams was fired for comparing Obama to Hitler.
"Are we comparing wanting gun laws to saying racist things?" a baffled Powers asked.
After a commercial break, the heated debate picked back up, with Larson calling Powers' argument a "fraud" and "flawed" in thinking that the availability of guns leads to escalated, violent situations
Kelly then added that Belcher's blood tests show he was "taking too much alcohol and he was in an organization that is by its nature violent and led to head injury, so how do you blame the gun?"
"If you didn't have the gun, it would be far less likely there would be a fatality," Powers said before accusing Larson of "distorting" what Costas meant. "I don't think that's an outrageous thing to say. But to compare that to saying racist thing to me just — I'm — you lost me. I don't understand why Bob Costas can't say this."
When Larson attempted to reiterate his point that a TV host would be fired for saying that black Americans should not vote, both Kelly and Powers rebuked him, with the former saying "that's not something being debated in the country."
Watch below, via Fox News:

— —
>>
Follow Andrew Kirell (@AndrewKirell) on Twitter
Have a tip we should know? tips@mediaite.com