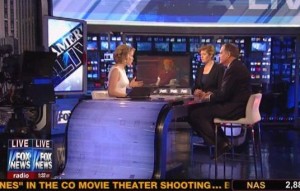 On Fox News Channel's America Live with Megyn Kelly, a debate over gun control measures in the wake of the tragic mass shooting deaths in Colorado became contentious. Fox News contributor Sally Kohn and former Deputy Assistant to President George W. Bush, Brad Blakeman argued over the appropriateness of stricter gun control laws – the argument became heated when each countered the other with fact-based arguments that revealed there is no consensus on how to address the issue of gun violence.

RELATED: John McCain On Gun Control: Norway Shooter Killed People In Country With Strict Gun Control Laws
Kelly asked Blakeman if stricter gun laws reduced murder rates. "They don't," replied Blakeman. He said that gun violence in cities like Washington D.C. and states like California, where gun control law are strict, they see higher gun violence rates than in states like Maine where the gun control laws are weaker.
"I'm the victim of gun violence," said Blakeman. "My feelings toward gun control hasn't changed since then. I believe that people have an ultimate constitutional right under the Second Amendment to bear arms. And the question is, are you going to let the rights of a super-minority trump the rights of the majority?"
Kohn challenged Blakeman saying that Massachusetts, a gun control state, has the second lowest crime rate in the nation. Furthermore, the United States' gun violence rate is many times more than most other industrial nations combined. "The only difference between our country and those other countries is our lax gun laws," said Kohn.
Kelly challenged Kohn and said that the rate of institutionalization for the mentally ill has also declined dramatically in recent years.
"I don't believe we're a violent nation," said Kohn. "Do you?"
"The mental health system has to be part of this discussion," Kelly replied.
Blakeman cited a study that showed assault weapons are involved in an "infinitesimal" amount of gun crime. "They couldn't even measure it against the violence," said Blakeman.
Kelly went on to list all the defensive and offensive accoutrement that Holmes purchased in recent weeks and suggested that a database that checks these things would have helped stop him.
"Hindsight is 20/20," said Blakeman. "Do we want our country violating the rights of privacy on these types of inquiries for legal products that are sold?"
Blakeman said that it was fine to examine laws in the wake of this tragedy, but he said that he found gun control rhetoric "knee jerk."
"Brad I don't think anyone in this country needs a semi-automatic weapon to hunt and they should at least have to show a photo ID to get one," said Kohn.
"Well, but there's a question by a lot of people saying, wouldn't it be nice if somebody in that theater had been armed," Kelly countered.
"With a room full of tear gas in a crowded theater? Come on, it would have been worse," Kohn replied.
Kelly said that this particular theater, which was full of unarmed military service personnel, it is unlikely that the shooter would have been allowed to kill unrestricted if his fellow moviegoers were armed.
Watch the segment below via Fox News Channel:
> >Follow Noah Rothman (@Noah_C_Rothman) on Twitter
Have a tip we should know? tips@mediaite.com