Megyn Kelly Panel: Is Obama Scolding The Media Because He's Getting Less Favorable Coverage?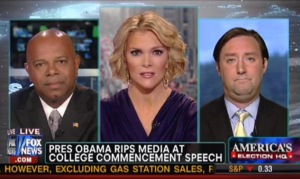 On Tuesday afternoon, Megyn Kelly's panel took a look at the commencement speech President Barack Obama gave at Barnard College on Monday. In it, Obama took a critical look at the media and its sensationalism. The panel noted this jab, and wondered if it had anything to do with unfavorable media coverage the president has received.
RELATED: President Obama Scolds The Media During Barnard College Speech
In his speech Obama said:
Every day, you receive a steady stream of sensationalism and scandal. The stories with a message that suggest change is impossible. That you can't make a difference. That you won't be able to close that gap between life as it is and life as you want it to be. My job today is to tell you don't believe it. Because, as tough as things have been, I am convinced you are tougher.
Kelly kicked off the discussion by asking whether Obama's assessment is accurate. Nothing is inaccurate about it, David Webb said. Obama's lost The New York Times and the media is no longer suppressing or ignoring what Americans see as the "obvious truth" when it comes to the economy, he added, also citing "class warfare." Given all that, Webb said, "You have no option but to put out some critique." Obama's losing voters and losing confidence, he concluded.
Josh Block, former spokesman for the Clinton/Gore campaign, said commenting broadly, like Obama did, runs the risk of "belittling" the public service. On a political basis, he added, the American people don't trust the media — thus, "it's an easy target to pick." That said, Block said there are "more substantive things we could have been hearing," offering up Syria as an example.
But again, he said, the media is a "safer" topic. Kelly asked, "Do you think the president's about had it with the media that used to cover him very favorably?" She cited a Pew study that showed that Mitt Romney's media coverage has been more favorable than Obama's.
Webb said, "We're looking at the truth come out. […] The media's been the willing, complicit partner for this administration in many respects." The internet and new media, he said, have acted as "the great equalizer." He further cited this Kelly panel as evidence of a "fair and balanced" look.
Kelly mentioned how the president is shifting blame to the president — and Block agreed, saying that he criticizes the media one minute and goes on The View the next.
The panel ended the segment with a discussion of Obama's speech in general, and whether his attempts to uplift and inspire will prove as successful as they have in the past.
Take a look, via Fox News:

Have a tip we should know? [email protected]