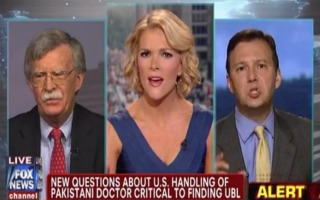 In a panel discussion on Fox News Channel's America Live with Megyn Kelly, an argument over the Obama administration's handling of relations with Pakistan became heated. Kelly appeared to become agitated when her guest attacked the motives of former U.N. Ambassador John Bolton after he criticized the Obama administration for being weak on relations with Pakistan.

RELATED: Megyn Kelly Panel Clashes Over Whether Obama's Race Affects Voter Support
A Pakistani court recently handed down a verdict of treason and a 33-year sentence for a man who led U.S. forces to the compound where bin Laden was hiding in 2011. Kelly invited Bolton and Brian Katulis, a senior fellow with the Center for American Progress, to discuss the Obama administration's handling of the relationship with Pakistan in the wake of this court's sentence.
"The government of the United States has got to be absolutely clear with the government of Pakistan here," said Bolton. "This is completely unacceptable." Bolton said that the U.S. has an obligation to protect those who aid in the execution of clandestine operations.
Kelly asked Katulis what the Obama administration's response would be. He asserted that there was an ongoing "aggressive" response planned. Before he could get into the details, however, Kelly interrupted him and said that the State Department has said that "they will continue to make representations" to Pakistan.
Katulis said that the segment he was participating in was "criticizing diplomacy in action," and said that this affair was similar to the diplomatic row with China over the dissident Chen Guangcheng earlier this month. "We have to call a timeout on the politicizing of national security," said Katulis.
Kelly responded that the diplomacy in action was worthy of criticism because "it stinks."
"I don't think what this gentleman has said is worthy of response, frankly," said Bolton when asked to respond to katulis. Bolton said that the Obama administration allowed Pakistan to become this aggressive with those who facilitate America's anti-terror efforts. Katulis said that they are "going to be held accountable for it."
At this point, Katulis became uncomfortable with the tone of the debate. "Politicizing these types of questions really weakening the United States," said Katulis. "Ambassador Bolton's in Iowa today and I get that it's 2012 and it's election season, but this is national security and about keeping America safe."
"There's no reason to impugn his motives," said Kelly. Katulis became agitated and crosstalk ensued.
Watch the segment below via Fox News Channel:
Have a tip we should know? [email protected]